ARCHDIOCESE OF SYDNEY REPORT: Kieran Williams didn't think he would have much chance in the WYD Madrid Video Competition.
It was open to young people from all over the world and film making is really just a hobby for Kieran.
He did win the xt3 Mary MacKillop video competition, "Looking for Mary", last year with a film called Suffering With a Smile, but Madrid was an international competition.
Then the call came from the judges. He was a finalist and the organisers wanted to fly Kieran over to Madrid for the announcement of the winner.
At a special WYD event last night the winning video was announced - "The Power of Confession" and to accept the prize - Kieran Williams.
A twenty-five year old university student, Kieran created the film with sports journalist and friend, Sebastian James.
It is about one friend who gives his life for another, knowing that he has been to confession and was ready to meet his maker. This inspired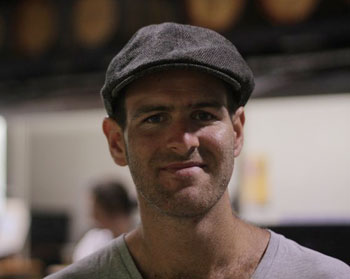 The man he saved to make the most of the Sacrament of Confession, and he eventually went on to become a Priest.
The poignant appeal about the film is that it is based on a true story.
Kieran didn't have much time to talk about his win overnight except to say he was "very stoked" and it came out of the blue.
Just happy to be a finalist Kieran didn't ever see himself as receiving first prize.
"We had a lot of trouble filming on the water, the audio was very tricky," he said
"However we knew it was a good story even with the quality difficulties."
Kieran also paid tribute to his friends who helped with the production - Sebastian; Assistant Producer Miguel Sargosa ( a former Catholic Communications employee); Actors Andrew Cougle and Alfio Stuto who was the 2nd place winner in the "Looking for Mary" competition and who is probably best remembered for playing the role of Jesus in Stations of the Cross at WYD Sydney.
Kieran also wrote the music for the short film.
First prize for the winning video is ten thousand euros or Aus$13,280 but most of this could also go into the next production. Kieran is already working on an entry for Tropfest.