Sydney Archdiocese REPORT
1 Sep 2011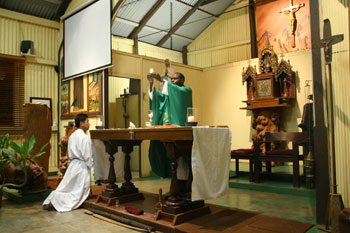 For 18 priests-in-training at Sydney's Seminary of the Good Shepherd, a month spent in rural or outback Australia deepened their faith, taught them about the day to day life of a priest in remote sparsely populated parishes, and importantly, taught them about themselves.
"You have got to know yourself to know Christ," Father Anthony Percy, Rector of the Seminary of the Good Shepherd, Homebush explains. "Gaining insight to understand and truly know yourself is a fundamental part of our program, and the experiences encountered by each of the seminarians during their time away, was right on the money."
The unique program was an initiative of the Archbishop of Sydney, Cardinal George Pell.
"It was very much the Cardinal's brainchild. He first talked about it in February this year, explaining how he wanted to give the Good Shepherd seminarians a broader experience of the Church and to observe pastoral activities beyond the city of Sydney and across a wider, more diverse Australia," Fr Percy explains.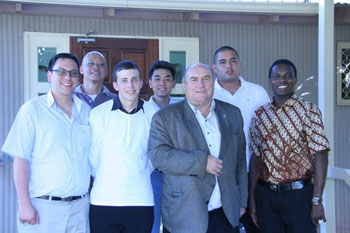 With the support and encouragement of Cardinal Pell, Fr Percy then discussed the idea with the Bishop of Broome, the Most Rev Christopher Saunders, the Bishop of Darwin, the Most Rev Eugene Hurley, the Bishop of Port Pirie, the Most Rev Gregory O'Kelly and the Apostolic Administrator of the Wilcannia-Forbes Diocese, Bishop Kevin Manning.
"They agreed to oversee the whole thing and were determined to make it work. I'm very grateful for their all their help. They were key to the success of the program. They also believed the scheme would not only prove an enriching experience for the seminarians, but would create an upsurge of interest in priestly vocations among members of their own dioceses and parishes."
With details of the scheme finally in place, in late July and early August this year, the 18 participants from the Homebush seminary headed north to Broome or Darwin, south to Port Pirie or west to Broken Hill and the sprawling NSW Diocese of Wilcannia-Forbes.
The seminarians ranged from those in second year through to those in their sixth year of study at the seminary. Six of them went to Broome, two to Darwin, six to Port Pirie and four to Wilcannia-Forbes.
For each the three t o four weeks away from their Sydney base proved to be an intense and profound experience.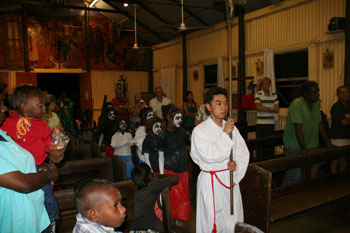 "The response and feedback we've received since their return has been remarkable," says Fr Percy who describes the program as a "wonderful success."
"Each Thursday at the Good Shepherd we get together for what we call Fraternity Night. It's a time for everyone to relax a bit and talk about their week; and those who went on the program are still talking about their time away, sharing their experiences, what they learned and what it has meant to them and to their vocation," he says. "For many, the experience represented the first time they had encountered real poverty and not only of the material kind. For others it was the first time they had been in rural Australia or had met and worked closely with Indigenous people. And for all of them, it was an unforgettable opportunity to see the positive work of priests in rural and remote Australia, offering pastoral care and practical help in often vast, thinly populated parishes. The work of these priests left a lasting impression on our seminarians with one insisting the time he spent in Port Pirie had taught him more in a few weeks than he had learned from books and months of study."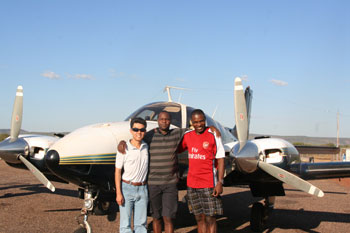 The success of the program has ensured that it will now become an important part of the Seminary's annual curriculum. Each year seminarians will be encouraged to spend several weeks in rural and regional Australia to experience the Church and a priest's work away from the city and metropolitan parishes.
Fr Percy is also convinced the program will have a spill over effect that will pay dividends in the future. "After ordination some seminarians may see their priestly mission in outback or rural Australia. Others may simply enjoy working there for short periods which could give rise to an exchange system between Sydney's priests and those in outback and remote areas," he says. "That way we can give clergy in Broome, Darwin, Port Pirie, Wilcannia Forbes and similar dioceses a break and time in the city, while Sydney priests fill in for them in their country parishes. "
Credit: Photography by Sebastian Hew and Patrick Kimulu
http://www.sydney.catholic.org.au/news/latest_news/2011/201191_1867.shtml