Catholic Communications, Sydney Archdiocese report
11 Oct 2011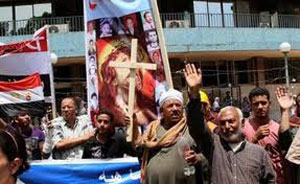 More than 1000 members of Sydney's Egyptian community together with religious leaders from Catholic and Protestant churches as well as other faiths, will gather at St Mary and St Mina's Coptic Orthodox Cathedral, Bexley tonight to mourn the 26 killed and more than 200 injured in the violence that erupted in Cairo at the weekend.
Today, Tuesday 11 October, will also mark the beginning of three days of fasting and prayer for 16 million Copts worldwide and the 12 million Copts in Egypt, in memory of those killed and injured in Cairo's weekend of bloody violence.
The bloodshed occurred on Sunday night when Islamist extremist thugs attacked a non-violent demonstration by the nation's Coptic Christian minority protesting the burning of their churches and the failure of Egypt's military council to implement reforms to protect them and their houses of worship.
The Bishop of the Sydney Orthodox Coptic Diocese and its Affiliated Regions, His Grace Bishop Daniel is currently in Egypt and as the violence in Cairo continues, has been in constant touch with his diocese here in Australia as well as with His Grace, Bishop Anba Suriel, the Melbourne-based leader of Australia's 100,000-plus Coptic Christians.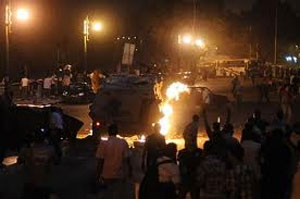 "Bishop Daniel has been monitoring events and we talk regularly by phone about events as they unfold," says the Reverend Father Suriel Hanna of Sydney's St Antonius and St Paul's Coptic Orthodox Church, Guilford.
In the wake of Sunday's violence and the brutal crackdown by Egypt's military, Fr Suriel fully endorses the call made this morning by His Grace Bishop Anba Suriel for the expulsion of the Egyptian Ambassador in Australia and the Egyptian Consuls based in Sydney and Melbourne.
"We have lost confidence in them," Fr Suriel says and expresses his frustration with these officials who have shown no concern, sympathy or taken any action in the face of the worsening attacks against Coptic Christians across Egypt.
What began as a peaceful unarmed demonstration in Cairo on Sunday night, 10 October, turned ugly after Muslim extremist thugs clashed with the unarmed Christian protestors. But it was the arrival of the military that led to the bloody rampage that saw so many dead and injured. With no regard for civilians or their lives, the Egyptian army drove large tanks and armoured personnel carriers at high speed into the crowds, killing and injuring some and scattering terrified men, women and children.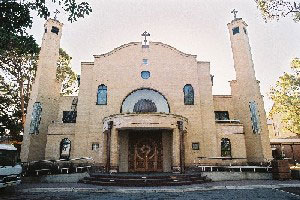 "The Coptic protest was non-violent. No one had weapons. Permission for the march had been given by the minister of the military. The demonstration was simply a way for Copts in Egypt to ask for basic human rights and to protest the burning of our churches and attacks on our people by hardliners. It was also a protest against Egypt's ruling military council's inaction in protecting Coptic Christians or their churches," Fr Suriel says.
The Sydney's Coptic community is shocked and saddened by the rising toll of injured and dead, he says and points out that the Copts at the demonstration in Cairo were not only unarmed but were carrying large crucifixes and white banners as well as wearing white arm bands as a symbol of peace. But with the arrival of Islamist extremists wielding batons, sticks, swords, petrol bombs and firearms, followed by the military in their tanks and personnel carriers, the event quickly got out of hand and deteriorated into bloody mayhem.
In the horrific aftermath the wide street near a Coptic hospital was littered with burned cars, smashed glass and bloodied pavements where people lay dead or injured. As grieving relatives rushed to find family members, a Coptic priest told a British reporter he had seen five people killed after being mowed down by a speeding army vehicle.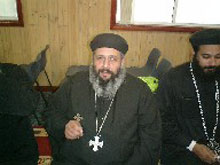 Last night, His Holiness, Pope Shenouda III, the spiritual leader of the Coptic Orthodox Church called an emergency meeting of the Holy Synod. After his meeting with 70 of the Church's senior bishops, he released a statement in which His Holiness accused Egypt's security forces of failing to stop anti-Christian agitators from turning what started out as a peaceful demonstration against church attacks into a sectarian riot in which at least 26 people, mostly Christians, were killed.
"Strangers got in the middle of our sons and committed mistakes to be blamed on our sons," his statement read with the Holy Synod expressing fears that the violence against Copts would continue to be repeated and those responsible would yet again go unpunished.
"We all know that the military council is trying to sow religious strife to stay in power and extend emergency law to prevent the democratic elections which are due to be held next month," Maha Adel Qasim, a 28-year-old Muslim who joined the Christians in their demonstration in a show of solidarity, told America's CBS news.
Copts have long been a target of discrimination and persecution in their native Egypt. Dating their conversion to Christianity back to the fourth and fifth centuries, the Copts trace their ancestry from the time of the ancient Pharaohs. Today they are the dominant Christian faith among Egypt's 8 million Christians in a country of 85 million. However since former president, Hosni Mubarak's outsted in February this year, the attacks and terror against them and their churches have dramatically increased.
"We have been persecuted for 1400 years. We are a church built on the blood of martyrs. We are a strong church and we will remain strong. All we are asking for are basic human rights and to practice our religion in freedom and without fear," Fr Suriel says. "We strongly believe in the power of prayer and fasting and at the end of the day, we are 100% sure the Lord will prevail and bring justice, if we remain strong in our faith.
Tonight's memorial service at St Mary & St Mina Cathedral, Guildford will begin at 7 pm and be presided over by the Vicar General of the Sydney Coptic Orthodox Diocese, the Very Reverend Father Tadros Samaan. All are welcome
http://www.sydney.catholic.org.au/news/latest_news/2011/20111011_1350.shtml