Catholic Communications, Sydney Archdiocese REPORT:
31 Oct 2011
For just under nine months, Sister Julianne Murphy RSJ has driven 27,118 kilometres across Australia visiting 107 schools, countless cities and town centres across Victoria, Queensland, NSW and WA as part of the Sisters of St Joseph's Travelling Roadshow - Australia Disaster Relief Recovery.
During this time she Zumba-ed with students at Australian Catholic University, visited Yarralumla where the Roadshow was welcomed by the Governor General, Quentin Bryce and most importantly of all, observed how Australia's Catholics and non-Catholics alike continued to be inspired by the life and work of St Mary of the Cross MacKillop.
"There is a growing and deepening awareness of her legacy in communities, towns and cities throughout Australia, and since the canonisation, it seems people of all ages, walks of life and faith have taken her to their hearts," she says.
Although the 2011 Travelling Sisters Roadshow officially came to an end in Brisbane last weekend at the inaugural fundraising dinner for the Mary MacKillop Foundation, plans are already afoot for a 2012 Travelling Roadshow.
"We visited every State and Territory and met an estimated 28,351 children, but we've had so many requests from other schools and communities who missed out, that next year we're hitting the road again," Sr Julianne says.
As with this year's Roadshow she will be accompanied on each leg of her journey by different Sisters of St Joseph. But with the next Roadshow not due to start until March, she will still be behind the wheel of the now famous brightly-coloured Travelling Sisters Roadshow van.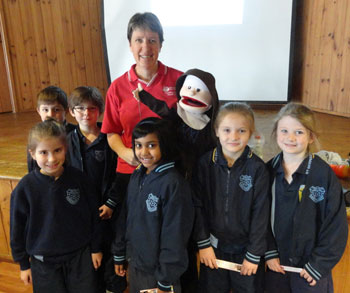 Leaving Brisbane this week, she will drive the van to Sydney where it will go on display in Martin Place, with the Sisters of St Joseph helping to raise awareness about the Mary MacKillop Foundation and where Christmas Cards to help fund the Foundation can be bought.
Established in 1995, the Mary MacKillop Foundation continues its namesake's legacy and responding to people in need, offering hope and practical help by supporting small life-changing projects to provide relief from suffering, distress, poverty, destitution, misfortune and helplessness.
Sr Julianne will spend a week at Mary MacKillop Place in North Sydney and then faces another long drive with the van when she hits the highway and returns to her home in the Port Pirie Diocese of South Australia.
"But this time there'll be no rush and I can take my time," she says cheerfully, admitting that at the end of her almost nine month long odyssey she is both "exhausted and exhilarated."
"Travelling such a lot can be tiring but the experience of the past eight and a half months has been profound, filled with highlights and very special moments," she says.
The Travelling Sisters Roadshow was designed by the Sisters of St Joseph and the Mary MacKillop Foundation to help children in cities, towns and rural communities come to terms with the string of Australian disasters that devastated communities earlier this year, ranging from the floods across Queensland, NSW and Victoria to the destruction wrought by Cyclone Yasi to overwhelming damage to homes and livelihoods from the bushfires that swept WA early this year.
"Even if children are not directly impacted by these disasters, they can still be affected by the images they see on television," Sr Julianne explains.
A teacher and school principal in Port Pirie for more than two decades, one way Sr Julianne helped children come to terms with the disasters and understand what other children might be going through, was to help them "walk in those children's shoes."
Using a pair of shoes, children were encouraged to step into them and imagine what it was like for children on the other side of Australia whose homes had been swamped by floods or razed to the ground by bushfires. Sr Julianne also encouraged children to send postcards to the youngsters at schools in hard hit areas.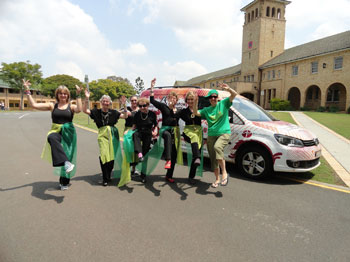 "They wrote to other children, sending them jokes or drawings or just saying 'thinking of you,'" she explains and admits she was delighted when she was in Tully recently, a town devastated by Cyclone Yasi, to discover the children had received postcards from their counterparts in WA as well as the Eastern states, and that the Tully youngsters were penning their own postcards in return.
There were also instances of spontaneous generosity among the children she spoke to.
"One small boy at a school in regional Australia listened intently to how much some people had lost and what it was like to suddenly have nothing. He was only six or seven but keen to help and on his own initiative picked the five apples on his family's apple tree and sold them to his classmates, and handed me the money to help those in need," she says.
The selflessness of children and their eagerness to help others was and is a continuing inspiration, she says.
In addition to helping children come to terms with the recent disasters, the Travelling Sisters Roadshow also raised awareness about the Mary MacKillop Foundation.
For the past 16 years, the Foundation has supported more than 300 projects. These include giving assistance to indigenous groups, people with disabilities as well as rural and isolated communities in need.
The Foundation also funds Aboriginal and Torres Strait Islander Tertiary Scholarships and since this initiative began, 32 young indigenous people have graduated with a further 35 currently in the midst of their studies.
"Every year we invite community-based self-help projects to apply for a 12-month grant of up to $10,000 with 40 such grants being awarded each year," Sr Julianne explains. "But in light of this year's series of natural disasters in Australian, the Foundation gave 40 extra grants to specific projects that focussed on disaster recovery."
http://www.sydney.catholic.org.au/news/latest_news/2011/20111031_1418.shtml