L'ARCHE WEBSITE REPORT: "L'Arche, in fact, has been since its origins (...) an international centre. It seems that more and more it will be oriented to suffering countries. Trosly remains somewhat as the mother house, which cannot be sterile and uninterested in its handicapped brothers on the other continents. (…) I am sure opening the handicapped's mind to other continents through these centres will bring much good on the human, cultural and spiritual level. Does not the dignity of man come precisely because of his openness to the universal?" (Jean Vanier, A vision of L'Arche: talk given to assistants, 1970)
Type

International not-for-profit organziation

Founded

August 4, 1964, in Trosly-Breuil, France

Location

Worldwide in 40 countries

Key people

Jean Vanier / Raphaël Simi / Phillipe Seux, Founders

Jean-Christophe Pascal, International Coordinator

Christine McGrievy, International Vice-Coordinator

Services

Establishing homes, programs, and support networks with people who have developmental disabilities

Members

5000+

Motto

"Changing the world, one heart at a time!"

Website

http://www.larche.org
(CHART FROM WIKIPEDIA) L'Arche International has its roots in the foundation of the first L'Arche community in 1964 in Trosly-Breuil, a village north of Paris. Following the suggestion of his mentor Father Thomas Philippe, a Dominican priest, Jean Vanier, son of a former Governor General of Canada, decided to invite Raphaël Simi and Philippe Seux to live with him in a small house which he named L'Arche, the French word for the Ark.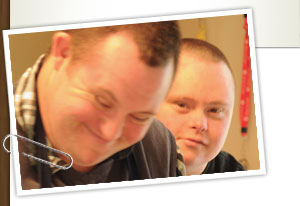 In the 1960s, the rapidly growing community in Trosly attracted young people from all over the world who were keen to share their everyday life with a growing number of people with an intellectual disability. Although not planned or foreseen by Jean Vanier, it was only a matter of time before one or the other decided to draw on the vision of L'Arche and to create a L'Arche community in his hometown or country. Communities in France (La Merci), Canada (Daybreak) and India (Bangalore) were founded by 1970. In 1975, the number of communities had already risen to 30 with new foundations in view in Africa and Haiti.

In only a few years, L'Arche opened up to other cultures, languages and socio-economic backgrounds. Initially of Roman Catholic denomination, L'Arche quickly became ecumenical and interfaith. And yet, despite this emerging diversity, all the communities remain united around the knowledge that the humanising contribution of people with an intellectual disability to our societies becomes apparent in mutual relationships.

The need for a structural framework became more and more evident as the geographical distance between communities increased. An International Board was created and presided by Jean Vanier until 1975. Community leaders met regularly to deepen their common identity.

In 1987, the sixth meeting of this type gathered 350 delegates from 82 communities in Rome. The meeting was highlighted by a visit of Mother Theresa and an audience with John-Paul II. In the meantime, new communities began in Central and Eastern Europe (Great Britain, Germany, Italy, Switzerland, Spain, Hungary and Poland) and around the world (Mexico, Brazil, Uganda, and Japan).

At the 1993 meeting in Québec, the International Federation of L'Arche Communities adopted its current Charter in which it reiterated its mission at service for people with an intellectual disability as well as some fundamental values, such as the respect of difference, the centrality of life-sharing in a community setting and the importance of trusting and authentic relationships between people with and without intellectual disabilities.

The 2002 General Assembly was another turning point for the Federation. The two international coordinators launched a process called "Identity and Mission" which was to redefine the fundamental characteristics of the organisation beyond cultural and socio-economic differences, to prepare the organisation for a constantly changing world and to adapt it to the changing needs of its members. The process was to help members, communities and the Federation clearly define L'Arche's values today in order to enable the movement to meet current challenges and renew its mission for the future.

L'Arche exists now for more than 40 years. Today, the Federation encompasses 131 communities in more than 30 countries on five continents.
Aging and Disability: Participation And Social Life
L'Arche communities are independent legal entities. Their financial income depends on the country in which they are situated. European communities usually benefit more from government subsidies than communities in North America. Communities in the developing world often depend entirely on donations.

L'Arche International is financed through contributions from its members, donations and the L'Arche foundations without which L'Arche would not exist.

For online donations, see:

L'Arche Canada Foundation: http://www.larche.ca/en/donate/about/
Fondation des Amis de L'Arche en France: http://dons.arche-france.fr/

Donations to L'Arche International:
10, rue Fenoux
75015 Paris
France

IBAN (International Bank Account Number): FR76 30003 00678 00037262645 67
BIC (Bank Identifier Code): SOGEFRPP