Catholic Communications, Sydney Archdiocese REPORT
25 Nov 2011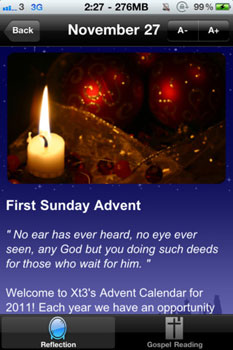 The annual Advent Calendar this year is both online and available as an App for your iPhone and Android mobile phones.
Extremely popular with everyone but especially young people, youth groups and schools, this year's calendar is packed with even more multi-media Catholic resources and reflections.
There is a special Advent Feast Day podcast series including a reflection by Auxiliary Bishop Peter Comensoli of the Archdiocese; a study of "Why the New Missal" with Fr Don Richardson; Xt3's "Ask a Priest" answers some of the most common questions received over the past year; highlights of the key events in 2011 including World Youth Day and the Beatification of John Paul 11; a series of apologetics; reflections on Humanae Vitae; a reflection on Advent spirituality by Fr Robert Barron and the Archbishop of Sydney Cardinal George Pell's Christmas message.
There are also articles, videos and YouTube clips.
However this year your Advent journey goes mobile with the Xt3 Advent Calendar now available on your iPhone or Android.
The calendar can be accessed from the first day of Advent - this Sunday, 27th November.
So what is Advent?
Advent is the season of preparation for Christmas, the most popular religious and holiday season of the year.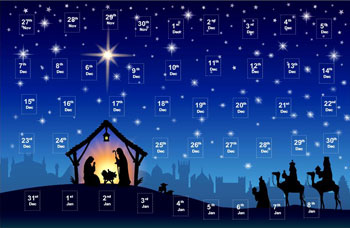 Nearly two thirds of Australians are Christians and one third of the remainder follow the other great faiths. One in five does not identify with any religious group. This diversity is reflected in the Christmas festivities, but just about everyone unites to ignore the spiritual tasks of the Advent season.
During Advent, the word derives from the Latin meaning coming, we are preparing religiously to celebrate that God has spoken to us, come among us and lived with us.
It is a time of expectant waiting and preparation for the celebration of the Nativity of Jesus at Christmas and begins on the fourth Sunday before 25 December.
Advent wreaths are used to mark the passage of the season.
It is uncertain as to when exactly the celebration of Advent was first introduced in the Christian church. Some sources say that Advent began on November 11 (St Martin's Day) at some time in the fifth century in the form of a six-week fast leading to Christmas. Advent was reduced to its current length at some stage in the sixth century and the fasting was later no longer observed.
For all you wanted to know in Advent visit www.Xt3.com/advent on 27 November to open your door to the first feature of the season.
http://www.sydneycatholic.org/news/latest_news/2011/20111125_59.shtml