Catholic Communications, Sydney Archdiocese REPORT|: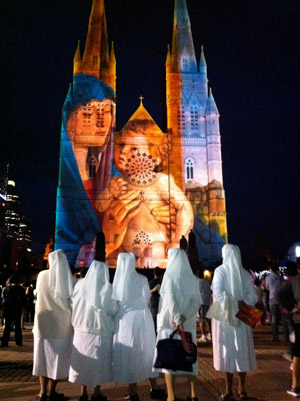 The spectacular laser Lights of Christmas at Sydney's St Mary's Cathedral was webcast live around the world last night with the rain stopping just in time.
Heavy rain during the afternoon and early evening didn't dampen the spirits of those who came to see the nightly light show on the western facade of the Cathedral however the atmosphere was even brighter when the rain stopped seconds before the light show got underway.
With this year's theme of "Peace" the show was streamed live on the social network of the Archdiocese of Sydney, xt3.com
Thousands clicked on to see the display and hear the creative director, Anthony Bastic, explain the concept and imagery.
As Anthony explained Christmas is often a time of personal growth and with growth often comes wisdom. However the first scene reveals doves, the universal symbol of Peace, flying across the facade.
Plants and flowers then appear and move across the Cathedral bringing with it the segment of Growth followed by an owl which appears in the tree as a pond below reflects the foliage.
As the owl takes flight a feather drops - imparting Wisdom. As the feather falls on to the pond the ripples signifies the affect our wisdom can have on others.
Images of the stained glass windows of the Cathedral are used for the next segment and as rays of light appear around these images they symbolise the dawning of a new beginning which in turn brings hope.