Catholic Communications, Sydney Archdiocese REPORT:
21 Dec 2011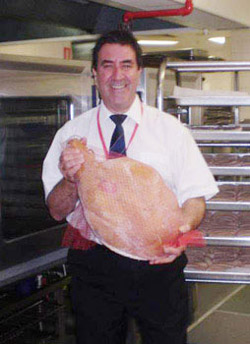 Corporate donations of 40 large turkeys, 30 hams, 72 kilos of potatoes, 70 kilos of pumpkins along with a seemingly endless supply of fruit cakes, individual plum puddings, vats of ice cream and countless mince pies, ensure Sydney's homeless men and women will enjoy a banquet fit for a king.
"The generosity of Sydney businesses as well as individuals also means the 30 children and their families living at our Vincentian Centre in Surry Hills will also have a special Christmas dinner with all the trimmings," says Gerry Deevy, the Irish-born Catering Manager of St Vincent de Paul Society's Matthew Talbot Hostel in Woolloomooloo.
Christmas Day at the Hostel also means a surge in the number of volunteers offering to help prepare and serve the main meal at midday along with breakfast and supper as well as set tables, decorate the big dining room and set up a festive Christmas morning and afternoon tea.
The volunteers signed on for this year's Christmas at Matthew Talbot will also help pack up chocolates and special goodies for the youngsters at Vincentian House.
"We were overwhelmed with offers to help, and sadly had to turn many away," says Gerry.
Despite all the work required on Christmas Day that comes from preparing not only a midday Christmas dinner but a full hot cooked breakfast, morning and afternoon tea and a supper of cold meats and salad as well, there is only room at the Hostel for 20 volunteer helpers.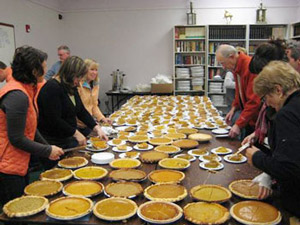 "Each year at Christmas we seem to always be given generous donations of food and never have a problem finding big-hearted volunteers. But it would be wonderful if the homeless were remembered with similar donations of food and time not only at Christmas but throughout the rest of the year," he says.
The Matthew Talbot Hostel provides more than 245,000 meals annually to feed Sydney's homeless. Each day 150 are fed breakfast, 250 are given a midday dinner and 250 are served supper in the evening. But even with corporate support and donations, this costs the Hostel itself upwards of $310,000.
Now amid fears of a global recession with the world's economic situation again under pressure from the high debt being carried by the Eurozone, Vinnies predicts a further rise in homelessness in 2012 as well as an increase in the numbers of families seeking help as they struggle to make ends meet.
This will mean additional demands on Matthew Talbot and also escalate costs with the price of fresh farm produce expected to rise. This together with the sharp increase in the cost of electricity and water is expected to further escalate costs of caring and feeding the homeless throughout the year.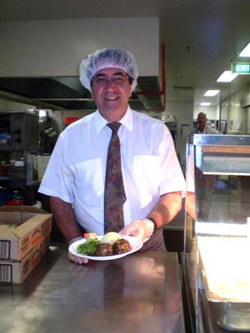 As a way to ensure the daily breakfasts, midday meal and suppers by the Hostel are not put in jeopardy, or the quality of the meals reduced, Vinnies NSW has launched "The Talbot Big Serve."
Through this initiative groups of friends, families or employees can get together and donate all the lamb chops or all the chicken or beef that might be needed for one of Matthew Talbot's midday meals which feed up to 300 homeless men each day.
While the sheer quantities needed to feed that many might alarm home cooks used to feeding around four or five, the actual cost is within most people's reach, particularly when the overall amount is split between five to 10 family members or friends.
"Meat is our biggest expense with the 50 kg needed for one meal, costing around $450 or about $1.50 per," Gerry says.
While the Matthew Talbot budget can run to vegetables, desserts and fruit, much of which is donated by large companies, meat is where the Hostel needs help.
Certainly $450 sounds a hefty price but when split between 10 people, the individual cost is brought down to a more easily affordable level of just $45 each.
While smaller groups are taking up the challenge, larger corporations particularly those involved in the CEO Sleepouts have gone even further at a cost of $4500 annually, are providing the beef, lamb or chicken for one entire midday meal for 300 each month over a 12 month period.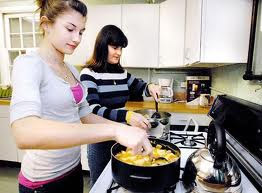 "The Talbot Big Serve is a wonderful way to help someone in need," says Gerry and urges all of us to consider the homeless this Christmas and maybe join together to donate the meat for one meal in 2012.
The original idea for this unique initiative grew out of Vinnies' famous CEO Sleepout which takes place each June, on one of the coldest nights of the year.
Now a national event, the CEO Sleepout not only raises funds to help Australia's estimated 105,000 homeless, but also raises awareness about their plight.
The reasons for homelessness are complex, Gerry says and with the global downturn. Some become homeless as a result of divorce or mental illness or problems with alcohol and drug addiction. While others, can find themselves on the streets or sleeping in their cars, after being made redundant and no longer able to pay their rent or mortgage.
To find out more about the Talbot Big Serve and how you can help click on to
www.vinnies.org.au/talbot-big-serve-nsw
http://www.sydneycatholic.org/news/latest_news/2011/20111221_1534.shtml