VATICAN.VA REPORT: APPOINTMENT OF THE Apostolic Nuncio in CUBA
The Holy Father Benedict XVI has appointed Apostolic Nuncio in Cuba Archbishop Bruno Musar, Titular Archbishop. of Abari, now Apostolic Nuncio to Peru. (Image source: Radio Vaticana)
[01149-01.01]
WAIVER OF ARCHBISHOP AYACUCHO (PERU) AND APPOINTMENT OF SUCCESSOR
The Holy Father has accepted the resignation from the pastoral governance of the archdiocese of Ayacucho (Peru), presented by Bishop Luis Abilio Sebastiani Aguirre, MS, in accordance with can. 401 § 1 of the Code of Canon Law.
The Pope appointed Archbishop of Ayacucho (Peru) Rev. Salvador Piñeiro García-Calderón, Military Ordinary.
Rev. Salvador Piñeiro García-Calderón
Rev. Salvador Piñeiro García-Calderón was born in Lima January 27, 1949. He studied philosophy and theology at the Seminary of Santo Toribio and the Faculty of Theology of Lima, obtaining a licentiate in Sacred Theology.
He was ordained May 6, 1973 and incardinated in the Archdiocese of Lima.
After ordination, he exercised his ministry in the archdiocese ever, holding the following positions: assistant priest and professor of Philosophy and Theology in the Pontifical Faculty of Lima and in the School of Catechesis, and pastor in three parishes, Vicar for the pastoral care; Vicar General, Rector of the Seminary, the Episcopal Vicar.
On 21 July 2001 he was appointed Military Ordinary, and received episcopal consecration on 2 September.
33rd anniversary of Pope Paul VI's passing
Romereports REPORT-
It was 33 years ago, when Pope Paul VI, passed away at the summer residence of Castel Gandolfo. It was the summer of August 6th, 1978. Before becoming pope his name was Battista Montini. He was born in a town near Brescia, Italy in 1897. After entering the seminary, he was ordained at the age of 23.






Before heading the Church, Paul VI attended several universities and had degrees in Theology, Canon Law and Civil Law. He became a cardinal in 1962 under the rule of Pope John XXIII. He then joined the Second Vatican Council, which he would eventually chair. (image source: 6degreesofjp2.blogspo

t)
(IMAGE SOURCE: theirmanygods.blogspot) Roughly a year after becoming a cardinal he was elected pope at the age of 66.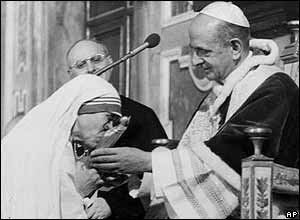 His (Image: tldm.org) pontificate is mostly known for the key changes he made to the Second Vatican Council. His encyclicals "Populorum Progressio" and "Humanae Vitae" reflected his interest in solving problems of society at that time.

In the summer of 1978 his health deteriorated quickly. He died at the age of 81.
His beatification process is already open. (source of writing Rome Reports/pictures from various sources)