Catholic Communications, Sydney Archdiocese REPORT
27 Jan 2012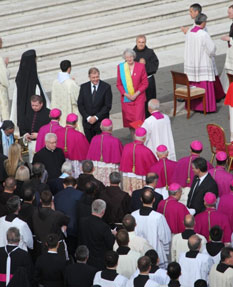 Josephite Sister Maria Casey, the Archdiocese of Sydney's Vicar for the Religious and former Postulator for the Cause of Mary MacKillop was awarded an Order of Australia Medal (OAM) for her efforts in making the case for canonisation to the Vatican. But Sr Maria insists the award is not about her but instead honours and recognises Australia's first saint.
"When I first heard that I was to be given the award, I was extremely surprised and also a bit ambivalent for this is not the kind of thing I look for. But then I decided the award was being given in recognition of Mary MacKillop and the high esteem and love in which she is held, not only by the Church but by Australia at large," Sr Maria says.
Fr Paul Gardiner, SJ also received an OAM yesterday for his work during his more than two decades as Postulator for the Cause before handing over the reins to Sr Maria. But like Sr Maria he does not regard the honour as a tribute to his own efforts at making the case for sanctification of St Mary of the Cross MacKillop.
"I'm just a moment in the cause of Mary. People had worked at it for a long time and when I came into the picture a great deal of work had been done by other people," he says.
Now 88 years old, Fr Gardiner hopes his and Sr Maria's OAM awards will remind Australians of the importance and holy character of Australia's first saint, and firmly believes the awards were given based on the legacy of St Mary of the Cross Mackillop's holy character rather than on the work in establishing the case for canonisation to the Holy See.
Fr Gardiner, who lives in retirement in the picturesque town of Penola, SA, site of the first school founded by Mary MacKillop and Fr Julian Tenison Woods, was appointed the Vatican Postulator for the Cause in 1984. The next two and a half decades were spent in meticulous research in Rome as well as Australia. In 2001, he was joined by Sr Maria who was appointed Vice Postulator.
Author of "Mary MacKillop: An Extraordinary Australian", Fr Gardiner was responsible for documenting the first miracle attributed to her intercession which was approved by the Vatican in 1993, paving the way for her beatification and eventual canonisation.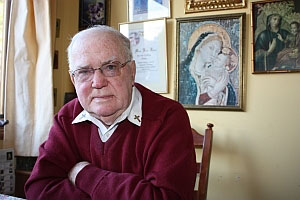 After Fr Gardiner's retirement in 2008, Sr Maria took over the role of Postulator, researching collecting testaments to Mary MacKillop's holiness and closeness to God as well as documenting the second miracle and presenting evidence for divine endorsement to the Vatican's Congregation for the Causes of Saints.
Both Fr Gardiner and Sr Maria participated in the historic canonisation of St Mary of the Cross MacKillop in Rome on 17 October 2010. The following year, the pair were together again, choosing to spend 8 August, the Feast Day of Australia's first saint, in prayer in Penola.
Sr Maria has no plans for any special celebrations to her OAM award. Her thoughts today were instead with Josephite Sister Elizabeth Murphy, former congregational leader, who will celebrate her Diamond Jubiliee marking 70 years of professed on Sunday, 29 January.
Sr Maria is flying to Perth tomorrow to be take part in Sr Elizabeth's Jubilee several hundred other Josephite sisters. Former pupils of Sr Elizabeth and their families will also participate.
Now almost 90, the celebrations will take the form of an afternoon tea and prayers and will give many Josephites a chance for reunions with other sisters from all corners of Australia.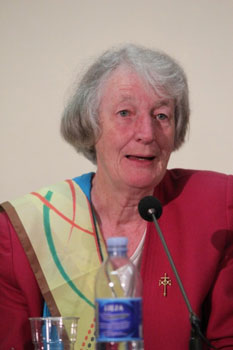 "I am very much looking forward to the Jubilee and seeing Sr Elizabeth and many other friends at the celebration," says Sr Maria.
The following is a list, courtesy of Ramon A. Williams, of other leading NSW Catholics who were honoured in yesterday's Australia Day awards.
Member of the Order of Australia (AM):
The Hon Jennifer Margaret Boland, Kirribilli
, for service to the judiciary through the Family Court of Australia, to legal education, and to the community, particularly through social welfare organisations; Director, CatholicCare Foundation (formerly Centacare), since 1999 and Board member of Monte Sant' Angelo Mercy College from 1995-2002
Richard Haddock
, Bronte for service to business through executive roles with financial institutions, to the law, and to the community, particularly as an adviser to the social welfare organisations of the Catholic Church in Australia; Chairman Sisters of Charity Foundation; Chairman of CatholicCare; Chairman, the Curran Foundation; Chairman of Catholic Superannuation and Retirement Fund; Member Finance Committee and Investment Committee, Archdiocese of Sydney and Hon Treasurer, Caritas Australia.
George SMITH
, Warriewood, for service to the sport of Rugby Union football as a player at the national and international level, and to the community; Ambassador, St. Vincent de Paul Youth Reach Program; fundraiser for Tongan victims of the 2009 Tsunami; supporter, George Gregan Foundation and coordinator, 'Money Can't Buy' experience to raise money for the Queensland Flood Relief.
Medal of the Order of Australia (OAM)
Susan Carr, Narara
, for services to youth through Girl Guides Australia, teacher, Our Lady of the Rosary Catholic School, The Entrance.
James DOYLE, Russell Vale
for service to the community through the Sisters of Charity Outreach Foundation; Business Manager, Remote and Rural Group, Sisters of Charity Outreach Foundation; Treasurer, Sisters of Charity Outreach Foundation, 1989-2002.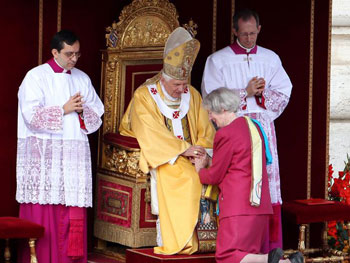 Lady (Joan) Hardy, Potts Point
, for service to the community through support for a range of charitable organisations; member of the Advisory Board, Mackillop Foundation.
John Kean, Northbridge for service to the community through education, medical research, trade and charitable organisations; Council Chairman, Loreto College, Normanhurst; member of the Foundation Board, St Ignatius' College, Riverview; supporter of the Sisters of Charity.
Sister Mary Leahy, rsj Bellevue Hill
, for service to pastoral care as the Chaplain of the Stella Maris Apostleship of the Sea since 1993 and Sister of St Joseph offering pastoral care to the Merchant Navy Association and the Merchant Navy Sub-Branch, Returned and Services League of Australia.
Madeleine Le Surf
for service to the community of Manly; foundation Member, Parish Caring Service, Manly Freshwater (Catholic) Parish, Special Minister of Communion; co-founder of the Manly Soup Kitchen formerly known as the Manly Winter Food Service.
Dr Kerry Moroney, Narrabri
for service to rural medicine, and the community of Narrabri; general practitioner and Visiting Medical Officer, Narrabri District Hospital and active member of Narrabri's St Francis Xavier's Catholic Church.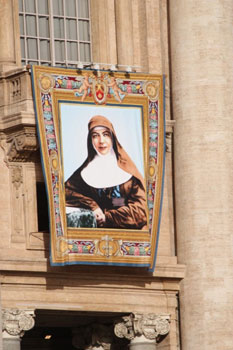 Dr John Roarty, Point Piper for service to medicine, particularly through contributions to St Vincent's Clinic, Co-Founder and Chair of the Implementation Group formed to create St Vincent's Clinic, St Vincent's Hospital; Executive Director and Board Member, Honorary Visiting Officer, St Vincent's Hospital, 1955-1992 and President of President, St Vincent's Clinic Foundation, 1998-2003.
Barbara Ryan, St Leonards
, for service to the community through the St Vincent de Paul Society; former President, St Vincent de Paul Society New South Wales; former member of National Council and Trustees Council; member of Aged Care Board; President, Matthew Talbot Homeless Services from 2006-2008 and Matthew Talbot Hostel volunteer over several decades.
Dr Margaret Stuart, Lane Cove
for service to medical research as a biotechnologist; founding member of the Endocrine Laboratory, Biochemistry Department, St Vincent's Hospital.
Associate Professor Peter Thursby, North Rocks
, for service to medicine in the field of vascular surgery, and serrvice to the Concord Repatriation General Hospital; Chairman, Medical Appointments Committee; Member, St Joseph's Campus Regional Advisory Board.
Dr John Tierney, East Maitland
, for service to the Parliament of Australia, to education, and to the community; Patron, St Phillip's Christian College.
Julia Young, Harwood Island
, for service to the community of the North Coast as a supporter of mental health service delivery, Eucharistic Minister, St Mary's Parish Maclean; Liturgy Leader; Member, St Mary's Bereavement Team.
http://www.sydneycatholic.org/news/latest_news/2012/2012127_1802.shtml