CATHOLIC Communications, Sydney Archdiocese, REPORT
27 Apr 2012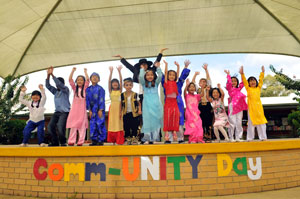 Catholic Schools Week 2012 which begins on Sunday, 29 April, will be a celebration of faith-based education and the outstanding achievements of Catholic primary and secondary schools across NSW and the ACT.
For six days, 20,000 staff and teachers from 615 schools and more than 260,000 students will strut their stuff to show exactly why Catholic education has such an acclaimed reputation.
In Australia today one in five or 20 percent of all school children receive their education at Catholic schools. One of the reasons is the consistently high academic standards, where students continue to achieve marks well above the state average in HSC examinations and the recently-introduced NAPLAN numeracy and literacy tests for primary school children.
But along with outstanding teachers and academic, arts, cultural and sporting programs, Catholic schools also imbue students with strong moral and spiritual values.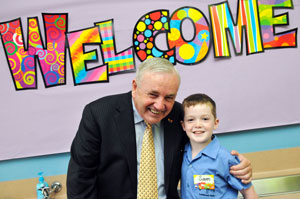 Taking the theme: "Catholic Schools: Faith in Every Student" for this year's Catholic Schools Week, parents and local communities will be able to observe teaching and learning excellence, as well as witness how students are encouraged to celebrate their faith and live out the values of love, compassion, tolerance and acceptance.
"As a father of six children myself, I know first-hand that there are few more important decisions for parents than choosing the right school for their precious child, where they can be sure that child will receive the best possible educational experiences," says Dr Dan White, the Archdiocese of Sydney's Director of Schools.
"In an increasingly secularised world, Catholic schools unashamedly proclaim the love and presence of God in a rapidly-changing and often turbulent society," he explains and emphasises how Catholic Schools Week serves as a strong reminder that, true to Gospel messages, we have a responsibility to reach out to all sections of society, especially to the disadvantaged and the marginalised.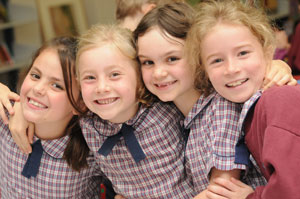 "Our Catholic schools do this magnificently," he says.
But he warns that we must not become complacent over recent achievements at Sydney and Catholic schools throughout the State, including the outstanding HSC and NAPLAN scores.
"The Catholic Education Office remains committed to focussing on learning and striving for excellence, and is committed to meeting the learning needs of every child regardless of his or her background or natural capacity to learn," he says.
Catholic Schools are inclusive welcoming students with disabilities, from disadvantaged backgrounds as well as those from ethnic minorities.
Throughout the week starting Sunday 29 April and ending Saturday, 5 May, parents and local communities are invited to join in the seventh annual Catholic Schools Week celebrations. Not only will parents and others be able to obtain a firsthand look inside classrooms to see students and teachers in action, but they will also be invited to participate.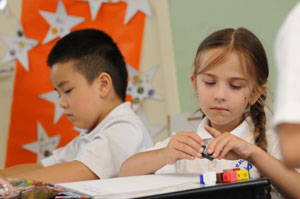 At some schools, tables will be turned with parents and teachers becoming the pupils and students taking the classes. At others school gardens will be on display. Other students will present short plays or screen movies they have made or interview parents and visitors to their schools for a tv or radio project.
Parents will also be given an insight into modern learning where smart boards, computers, blogs, podcasts and live streaming have revolutionised teaching and the way children learn.
"Catholic Schools Week gives us an opportunity to acknowledge our successes and achievements and to show parents what their children are up to and why we do what we do," says Dr White.
To join in the fun and to find out more about Catholic Schools Week, log on to
www.catholicschools.nsw.edu.au
SOURCE: ARCHDIOCESE OF SYDNEY