Catholic Communications, Sydney Archdiocese REPORT
29 Jun 2012
Australia continues to be among the world's most generous. The Government may have decided to trim the amount the nation spends on Foreign Aid in a bid to deliver a surplus, but not every day Australians.
For the first time ever Caritas, the international aid and development arm of the Catholic Church has raised $10 million for Project Compassion 2012.
"This really is remarkable," says Caritas Australia's CEO, Jack de Groot. "Even though times have been tough and uncertain for many Australians over the past 12 months, our parishes, schools and Church communities have given generously help support the world's poor."
Last year Project Compassion, Caritas' annual Lenten fund-raiser, topped $9.7 million, an increase of more than $300,000 on the previous year's total.
But this year's total eclipsed even those.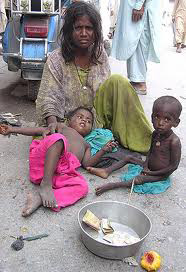 "The amount donated this year is unprecedented and will ensure thousands of families in the world's most impoverished communities are guaranteed life-saving support," says Mr de Groot and admits that he and others at Caritas have been "humbled" by Australians' big hearted generosity.
"I am reluctant to reduce what the people of Australia's Catholic community have done to simple dollars and cents because it is so much more that."
Each year during Lent communities, schools and parishes hold cake stalls, raffles, put on plays and come up with novel ideas of ways to earn money for Caritas' Project Compassion fundraiser.
Now in its 47th year, Project Compassion is also supported by corporations, organisations and individuals from all walks of life who find friends, family and colleagues to sponsor them on walks, runs or cycle events to raise funds the world's poor.
All monies raised from this year's Project Compassion will go to support communities in Africa, Asia, the Pacific, Latin America as well as Australia's remote Indigenous communities in northern Australia.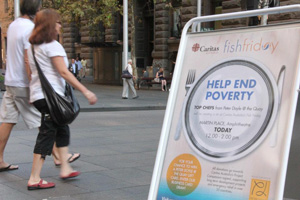 The world's largest aid agency after Red Cross, Caritas Australia and Caritas agencies globally provide ongoing help and assistance to impoverished communities. Through education and improved agriculture, hygiene, medical care, accessible fresh water and schools, teams from Caritas help communities break the cycle of poverty and become self-sufficient.
"Caritas is about helping people help themselves. It is also about delivering justice and peace which in turn leads to stability and security," Mr de Groot explains.
In addition to the ongoing work of Caritas in more than 220 countries across the world, emergency relief is also an important part of the agency's work. When natural disasters such as earthquakes, floods or famine wreak havoc on populations around the world, Caritas instantly responds, flying in teams to help victims as well as provide them with shelter, tents, food, potable water and medical care.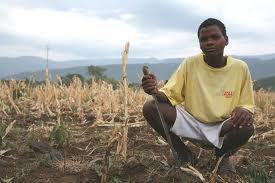 In the past year Caritas has been at the forefront of emergencies ranging from South East Asia's devastating floods to Japan's tsunami and the ongoing famines in West Africa as well as across the Horn of Africa.
Although Project Compassion officially ends with Easter, donations which are fully tax deductible continue to be received with the fund remaining open until tomorrow, 30 June which marks the end of the 2011-12 financial year.
To find out more about the work of Caritas and Project Compassion log on to
www.caritas.org.au
SHARED FROM ARCHDIOCESE OF SYDNEY