Catholic Communications, Sydney Archdiocese,
28 Sep 2012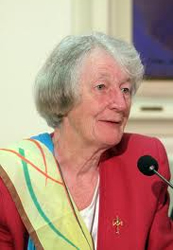 The former Postulator for the Cause of St Mary of the Cross MacKillop and an expert in canon law, Sister Maria Casey RSJ has been elected President of the Canon Law Society of Australia and New Zealand.
Sr Maria who is based in Sydney studied canon law at Saint Paul University, Ottawa, Canada and is the first woman and the first religious to be elected president of the society.
The election took place at the Society's annual conference held in Auckland earlier this month. Attended by more than 80 delegates the conference not only included international speakers from the US, Great Britain and SE Asia but a significant proportion of women.
Over the past decade the number of women who hold a masters or doctorate degrees in canon law has continued to increase.
Sr Marias's election not only recognises her wisdom, knowledge and experience in canon law but is a reflection of the growing number of women in the field.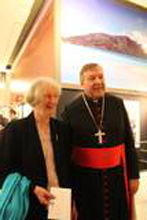 The Society's executive include committee members Dr Rodger Austin, the Rev Ken Cafe OFM, the Rev Paul Clark and the Very Rev Dr Brendan Daly.
As president, Sr Maria will hold the office for a three year term and follows in the footsteps of past presidents such Bishop Robert McGuckin, Bishop of Toowoomba; Bishop Geoffrey Robinson, Emeritus Bishop for the Archdiocese of Sydney; Bishop Adrian Doyle, Bishop of Hobart and Bishop Philip Wilson, Bishop of Adelaide.
On Australia Day this year Sr Maria was awarded an OAM for her work as Postulator for the Cause of Canonisation of St Mary of the Cross MacKillop. Father Paul Gardiner who was appointed Postulator for the Cause of Canonisation in 1985 until his retirement in 2008 was also awarded an OAM in the Australia Day honours.
In addition to her many duties, Sr Maria is also Vicar of Consecrated Lives for the Archdiocese of Sydney.
SHARED FROM ARCHDIOCESE OF SYDNEY