Catholic Communications, Sydney Archdiocese,
26 Nov 2012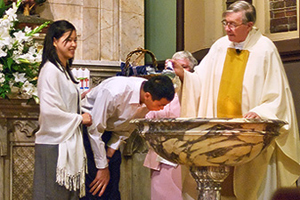 Members Sydney's chaplaincies, parishes and Church ministries involved with evangelisation and the Rite of Christian Initiation of Adults (RCIA) have a unique opportunity to acquire formal internationally-recognised qualifications in RCIA Catechesis.
Teresa Kehoe, Course Director of RCIA and Director of Partnership Support at Britain's renowned Maryvale Higher Institute of Religious Sciences will conduct three intensive study days at the Catholic Centre, 3 Keating Street Lidcombe on Sunday, 2 December, Saturday 8 December and Sunday 9 December.
Although specialising in distance learning, candidates embarking on the 12 month course for a Maryvale Certificate and Diploma in RCIA Catechesis must complete three days of required studies in person. This has meant those wishing to study for the certificate initially having to travel overseas to participate in this important three-day study course.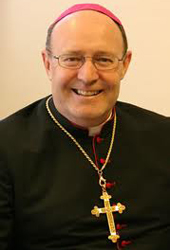 Now for the first time, the Archdiocese's Catechumentate Office is giving local people of faith the chance to extend their knowledge, learning and to study for this important Certificate and Diploma.
Developed by the Birmingham-based Maryvale Institute in England inconjunction with Britain's Association for Catechumenal Ministry, the RCIA Catechesis Certificate program has been designed to help catechists understand and support candidates wishing to join the church, and to inspire and foster skills as well as essential knowledge required for this vital ministry of the church.
A dynamic speaker and key member of the Maryvale Catechumenal team and the UK Catechumenal Ministry, Ms Kehoe will conduct both the three-day intensive study course as well as two important parish information sessions on RCIA.
On her first ever visit to Australia, Ms Kehoe arrives from the Britain on Friday, 29 November on a 12-day visit which mark the first time parishes throughout the Sydney Archdiocese as well as local chaplaincies, ministries and individuals have a chance to further and deepen their knowledge of the faith and explore the best ways to accompany people on their journey of faith over the period of their Catechumenate.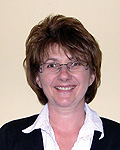 "With more and more people choosing to become Catholic each year, there is an ongoing need for enthusiastic, confident and well-formed RCIA catechists," says Catherine Hilder from the Archdiocese of Sydney's Catechumenate Office.
The Maryvale Higher Institute of Religious Sciences is currently the only Ecclesiastical institute of its type in the English-speaking world. Offering degrees of the Holy See at both undergraduate and post graduate levels, the acclaimed institute also offers long distance as well as real-time learning in Catholic Theology, Evangelisation, Catechesis, Philosophy, Ministry and Religious Education Certificate in RCIA Catechesis. In addition the Institute provides short informal courses, lectures and presentations for parishes, youth groups, chaplaincies and individuals.
During her 12-day stay in Sydney, Ms Kehoe will not only conduct three compulsory study days for Maryvale Certificate and Diploma candidates but from Friday evening this week, will hold three Parish Information sessions on RCIA for parishioners involved in RICA or those interested in becoming involved.
The Parish RCIA Information Sessions will be held on Friday 30 November from 6-8 pm and on Saturday, 1 December from 9.30 am to 4.00 pm. Both sessions will be held at the Catholic Centre, Lidcombe with a charge of $30 for both days or $10 for Friday evening only or for $25 for the longer all day session on Saturday.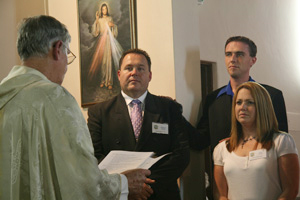 Bishop Julian Porteous, Episcopal Vicar for Renewal and Evangelisation says the Archdiocese is particularly pleased that in this Year of Grace people of faith across the city will have a chance to attend courses designed by the acclaimed Maryvale Institute conducted by someone of Ms Kehoe's knowledge and experience.
"Faith is ultimately a gift from God, an action of the Holy Spirit, yet it is mediated through the Church," he says and points out that although we live in an increasingly secular age, each year more and more people of all ages and all walks of life are choosing to become Catholic.
Earlier this year Bishop Porteous presided over the Rite of Election and Presentation of Baptised Candidates at St Mary's Cathedral. At the ceremony 180 took part and this was followed by what is known as the Period of Purification and Enlightenment which takes place during Lent and ends with the Third Ritual Step for catechumen-elects at the Easter Vigil when they are fully incorporated into the Church by Baptism, Confirmation and the Holy Sacraments and Eucharist.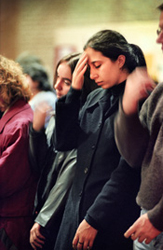 "Every year hundreds of people decide to become Catholic, and each one has their own special story," he says.
When an adult wishes to be accepted into the Catholic Church, they spend several weeks or months - there is no specified time limit - as a pre-catechumenate during which time they begin their formation, learn the values of the Gospel and at the many parishes that offer the Rite of Christian Initiation (RCIA) have an opportunity to question and explore different aspects of the Catholic faith.
"It is a great privilege to accompany people on this journey of faith during the RCIA process," he says and believes in today's increasingly secular society where instant gratification and materialism dominate, more and more young people are turning to the Church where they are discovering the true meaning of life through the power and love of the Lord.
To find out more about the courses which begin Friday evening, 29 November at the Catholic Centre, 3 Keating Street Lidcombe or to ask about enrolments in either the Parish Information Sessions course or to undertake the three required study days as part of Maryvale Institute's internationally-recognised RCIA Catechesis Certificate program, contact Catherine Hilder at the Archdiocese's Catechumenate Office by emailing
rcia@sydneycatholic.org
.
SHARED FROM ARCHDIOCESE OF SYDNEY