Catholic Communications, Sydney Archdiocese,
16 Jan 2013

The Bishop of Bathurst, the Most Rev Michael McKenna has asked people to pray for and practically assist residents of Coonabarabran and the surrounding areas who have been hard hit by this week's bushfires that have destroyed 40 homes.
The Bishop, who will visit Coonabarabran this weekend, has also asked that all Masses in parishes across the Bathurst Diocese pray for the people of Coonabarabran, Baradine and other rural communities in the region and to be ready to respond with help and practical support.
Father Greg Kennedy, the parish priest at Coonabarabran's St Lawrence Catholic Church says a meeting of the area's chaplains will be held later today to discuss ways to assist victims of the ferocious bushfires that swept through the Warrumbungle National Park with terrifying speed destroying homes, livestock, outbuildings and fencing.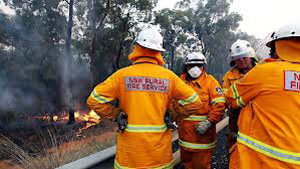 Centacare in Bathurst is also working closely with staff at the Centacare offices in Coonabarabran to help the families and farmers who have lost their homes along with outbuildings, crops and livestock. They are also in the midst of planning help over the longer term including for counselling for depression and emotional stress which frequently affects victims of bushfires several weeks later - once the reality and enormity of what has happened begins to sink in.
St Vincent de Paul Society is also offering help providing clothing, blankets and immediate needs for those in the evacuation centre set up at the Coonabarabran Bowling Club as well as for those who have lost their homes or are unable to return home.
With power lines down and many roads still closed as fires throughout the national park continue to burn with many still not under control, families and couples have not been able to return to their homes to assess the damage or even discover if their home is still standing.
"There is an evacuation centre at the Bowling Club but most of those forced to flee the fires are staying in town with family or friends," says Fr Greg Kennedy.
Yesterday and again today, a public meeting was held at the Bowling Club by the Rural Fire Service. Today's meeting was also attended by representatives from the NSW Parks and Wildlife Service, the Department of Family and Community Services, Vinnies, Centacare and the Red Cross to help those affected by the fires and give them information on where to turn for financial aid, to have their properties assessed for insurance and for all other needs.
"Everyone in the town as well as across the Diocese of Bathurst and surrounding areas are banding together to do what we can and to formulate a long term plan," says Fr Greg.
Despite many fire fighters describing the fires as the worst they had ever encountered, there is great relief that no humans lost their lives.
However many families are grieving the loss of beloved pets and farmers have the grim task of assessing their livestock and having to put down large numbers of their sheep or cattle that were badly burned in the fires.
"The bushfires in the Warrumbungle region came with great speed and force and the extent of the devastation is only now becoming clear," Bishop McKenna says and warned with many fires still burning, and temperatures set to soar once more, there would be further dangerous days ahead.
Expressing his sympathy and regret for those who have been left without their homes, he paid tribute to the fire fighters and emergency workers on the front line.
"We thank God for their bravery and great competence and also for the generous support that is already at work in the local community," he said. "This is a time to remember we are a Diocesan family and join in giving that support."
The Bishop is currently working closely with parishes across the Diocese to establish ways in which people can donate funds to help victims of the fires.
Details of where to donate to the families and farmers affected by this week's terrifying Warrumbungle and Coonabarabran bushfires will be posted on our website as soon as they come to hand.
SHARED FROM ARCHDIOCESE OF SYDNEY