Catholic Communications, Sydney Archdiocese,
27 Mar 2013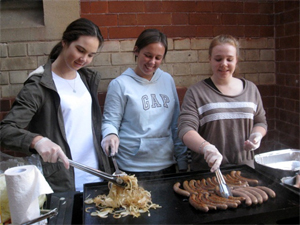 Year 11 teenagers from Loreto Kirribilli are the latest group from Sydney's Catholic primary and secondary schools to don aprons, chop up vegetables and serve a nourishing meal to the homeless and those in need in Redfern.
The Sharing of the Meal program at St Vincent's Catholic Church in Redfern dates back more than 15 years and offers nourishment, companionship and much more each week to more than 70 of the area's most in need men, women and children.
Initiated by the late Father Ted Kennedy, the program offers a nourishing and healthy breakfast cum lunch to those doing it tough every Tuesday and Friday, and has become an important part of the community and service ministries and outreach programs at an increasing number of Catholic schools.
"The Christian difference with community and service at Loreto means not just spending time talking about issues such as homelessness or mental illness or disabilities, but actually going out and spending time working alongside them," says Gina Marshall, Loreto's Religious Studies Co-ordinator.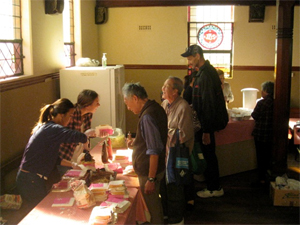 At Loreto, the annual outreach program is not only a way for students to deepen their faith but offers an opportunity to see beyond the popular stereo-types. It also gives students a chance to spend a day helping out at Redfern's weekly Sharing of the Meal and cook for the students at the newly-opened Jarjum Aborginal College in Redfern and visit Redfern's Aboriginal Community Centre. Other students in the program also gained unique insights with experiences spending time in other areas of the city to work with and help those with disabilities, the elderly, the mentally ill and those on the margins.
The program at Loreto and similar initiatives at other Catholic schools is proving a hands-on way to break down barriers and promote love and respect for the dignity of every human being, no matter what their circumstances.
"The experience teaches students not to judge people by outward appearances," Gina Marshall says explaining that the outreach program at Loreto is based on Emmaus, one of the great post Resurrection stories.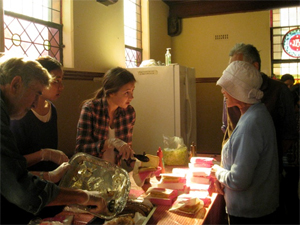 "The girls return to the school changed by their experiences and not only more aware but with a new understanding and compassion for others," she says and believes one of the key reasons for this is that students at the school are not only encouraged to help out, but urged to sit down and talk with those they are assisting whether these are the homeless, the sick, children or adults with disabilities or the mentally ill.
"Through conversation you get to know someone and this way stereotypes are broken down and from this comes genuine understanding and respect," she says.
The group of students from Loreto who spent the day cooking, serving and talking with men and women battlers in Redfern as part of the Sharing of the Meal initiative is the latest in a long line of student volunteers from not only from Sydney's Catholic primary and secondary schools but from the city's universities as well.
This week a team of Year 10 boys from St Aloysius College, Milson's Point are returning to Redfern where they will once again take part in the Sharing of the Meal program. Like Loreto and many other Sydney schools, the pupils at St Aloysisus are regulars. But schools don't limit their involvement to pitching in on the day, but many organise cooking classes where students, some as young as 10 and 11 such as those at St Mary's Primary at North Sydney, cook up enough lasagne and pasta bakes for 70. These meals are then frozen and served up for either a Tuesday or Friday meal.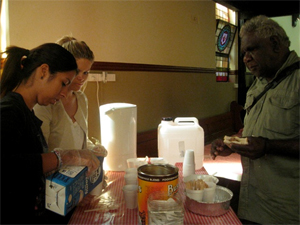 Among the schools involved with the program are St Joseph's College, North Sydney, St Mary's Primary North Sydney, St Thomas' Primary at Willoughby; Loreto Kirribilli, St Vincent's College, Potts Point; St Mary's Primary, North Sydney; Sacred Heart, Mosman; Monte Sant' Angelo Mercy College at North Sydney, Newington College, Stanmore and Cammeray Public Primary School.
University students from campuses across Sydney also regularly help out at with the twice-weekly dinners served up to 70-plus individuals and families at Redfern's St Vincent's Catholic Church Hall. These include students from the Australian Catholic University, the University of Notre Dame, the University of Sydney, NSW University and the University of Technology Sydney (UTS).
In addition to helping prepare and serve meals, the older students also act as mentors, says Jenny Carter, the power house working mum who took over as coordinator of the Sharing the Meal program two years ago.
With her energy and persuasive powers, Jenny has turned the Sharing of the Meal far beyond merely feeding those in need to embrace all areas of their lives. Intent on changing lives, she has instigated the mentor program for Redfern's boys and young men whereby university students and volunteers from Sydney's business community offer a ready ear, counsel and encouragement.
"Having the professional businessmen and uni students sit down and have a chat with the men and teenage boys over a meal at St Vincent's gives those on the margins a chance to talk things over, build their self-esteem and receive valuable input and advice," she says.
Feeling good about how you present yourself to the world is also a factor in building self-esteem and as part of the Sharing of the Meal Program, Linda Scott-Mackenzie of the Establishment Hair Salon at Milson's Point has joined Jenny's team of volunteers and every couple of weeks, drives across the Bridge to give free haircuts and her expertise as a stylist to Redfern's battlers.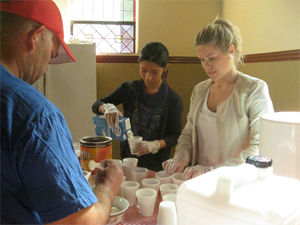 "It's something I love to do, and so do my staff," says Linda who is now in her second year as a regular volunteer at St Vincent's in Redfern as part of the Sharing of the Meal program.
Thanks to Jenny Carter and her team of volunteers, Sharing the Meal has become a remarkable example of community "can do" spirit, not just in the immediate area but across the city.
Local restaurants around Redfern reheat the frozen food cooked by Sydney's young students while much of the produce used in the food for each meal is donated by charities like St Vincent de Paul Society and Oz Harvest as well as poultry suppliers such as Steggles which donates hams and chickens.
In addition an increasing number of Sydney corporations as well as organisations such as the Lions Club have signed on and sponsor at least one big barbecue meal a year, while others have joined up to put on egg and bacon rolls once a month.
Redfern's Sharing of the Meal offers people from all walks of life a way to engage, help and learn about each other and with young people, such as the students from Loreto and this week's Year 10 boys from St Aloysisus it provides an unforgettable opportunity to lend a hand and make a difference.
"It's great for kids to see another side of Sydney," Jenny says and believes the program not only helps them gain a new way of looking at the world, but has a positive impact on those they pitch in to help.
"The people of Redfern love the enthusiasm of the young and especially enjoy the chance to spend time talking to them and sharing their stories," she says.
SHARED FROM ARCHDIOCESE OF SYDNEY