Catholic Communications, Sydney Archdiocese,
19 Apr 2013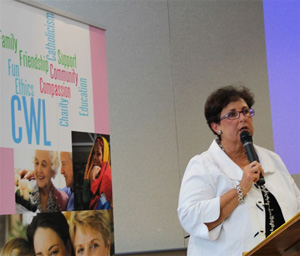 The Catholic Women's League Archdiocese of Sydney celebrated their Centenary today with a special mass at St Mary's Cathedral followed by a lunch at Parliament House for members and friends and the launch of their DVD "At the Heart of Women".
A handful of women started CWL Sydney in 1913 but since then thousands have worked tirelessly, with courage and conviction, for the church and society.
The women stood together helping wherever they could during two world wars and the biggest depression the world has known.
They have constantly and consistently promoted family values and have been staunch defenders of those who have been exploited or manipulated.
The women not only work with parish connections but have developed programs in the areas of justice and education and have supported many community6 projects here and overseas.
Auxiliary Bishop of the Sydney Archdiocese, Bishop Terry Brady said the Catholic Women's League has shown a wonderful and strong tradition in the Catholic Church which many can look to and admire.
Many members, past and present office holders, politicians, clergy, religious and Catholic organisations were represented at the mass and the lunch - a sign of the esteem in which the CWL is held in Sydney.
The Governor of NSW, Prof Marie Bashir was a special guest at the Centenary Mass. She also spoke highly of the CWL and all the women who, bonded by friendship, their faith and a strong support network, contributed and continue to contribute so much to society.
It came as a great surprise to all those at the lunch when the Attorney-General, Mr Greg Smith read a message from Premier Barry O'Farrell announcing the retirement of Governor Bashir in September 2014.
All applauded when Mr Smith read the message which said Prof Bashir is "an inspiration to everyone she meets, from children in schools, business leaders, visiting Heads of State, to those affected by natural disasters and members of our ethnic and Indigenous communities."
The Centenary DVD chronicles the proud history of the CWL Sydney, of nurturing and developing women through engagement in emerging and innovative roles both in the church community and in wider society.
SHARED FROM ARCHDIOCESE OF SYDNEY