Catholic Communications, Sydney Archdiocese,
28 May 2013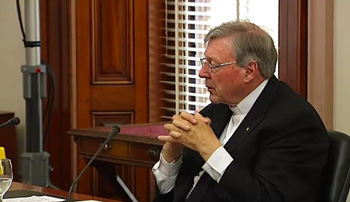 Speaking to the six members of the Victorian Parliamentary Inquiry, a packed meeting room and overflow room for victims of abuse, support groups and media, Cardinal Pell said he was "fully apologetic and absolutely sorry" for victims of child sex abuse committed by priests or church works.
As Cardinal Pell's appearance was streamed live he said to the committee "that is the basis for everything which I'll now say".
The Archbishop was Sydney was invited to appear before the Victorian Parliamentary Inquiry into the handling of sex abuse allegations during the time he was archbishop of Melbourne (1996-2001).
Originally scheduled to last from 1.30-3.30pm the Cardinal's appearance ran to six pm with a short recess called by the Chair of the Committee, Ms G. Crozier.
Answering many repetitive questions Cardinal Pell said victims of abuse are and must be the church's first priority. On a number of occasions he renewed his apology to victims and their families saying the terrible crimes carried out by convicted priest-paedophiles were appalling and reprehensible.
He said within 100 days of becoming Archbishop of Melbourne he established the Melbourne Response and the role of the Independent Commissioner to investigate complaints and make findings.
Cardinal Pell agreed past cases of sexual child abuse by priests had been very badly handled, there had been serious errors of judgement and added; "I don't think many of any persons in the leadership of the Catholic church knew what an horrendous widespread mess we were sitting on."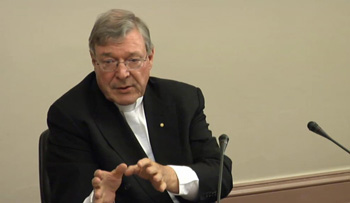 He said it was likely fear of scandal prompted the cover-up of child sex abuse allegations saying;"The primary motivation would have been to protect the reputation of the church.
Cardinal Pell said the number of reports of abuse by clergy members peaked in the 1970s and 80s, but had fallen as the church introduced initiatives to tackling the crime including welcoming enhanced laws, effective internal procedures, greater vigilance among Church leaders and working with police and child protection authorities. He also reaffirmed his commitment to providing practical help and support to victims.
Victim support group members and media juggled for the chairs in the main hearing room.
Tweeting was incessant. Some of it even correct, although by the nature of tweets out of context.
While some scrambled to keep notes, other notes were regularly handed to committee members. Perhaps question reminders from staffers. Although as the hearing dragged on perhaps they were dinner orders.
One scribe, desperate for "colour" later wrote that no one rose when Cardinal Pell came into the room. Those who managed to secure a seat also stayed seated when the committee members and the media entered.
The same scribe said;"He was in civvies: white shirt, no jewellery, his head bowed under the weight of the mitre he wasn't wearing." Perhaps his view was hindered by the cameras. Cardinal Pell was actually wearing a white shirt and clerical collar, his Bishop's ring. True no mitre in sight- but it wasn't a liturgical occasion after all. The "colour" continued - "His voice is masculine but oddly refined: Oxford over Ballarat." Crucial information for the those seriously following the Inquiry.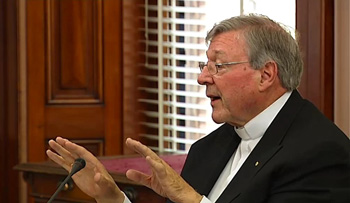 In what some in the meeting room described as a gruelling afternoon "dotted with unnecessary asides and comments" the hearing continued.
Cardinal Pell was allowed a short summation and asked his submission be posted on the official website within 24 hours, rather than months as with some other submissions.
It is hoped the content and core information of the afternoon was not shaded by performance and effect.
The Inquiry and hopefully the ensuing recommendations will go further in tackling the scourge of child sexual abuse.
Meantime it was interesting to see Canberra-based lawyer Jason Parkinson, who has launched 400 lawsuits against the Catholic Church, say the church had settled every case4 that was still on-going, paying his clients either in pre-trial negotiations or in court.
Mr Parkinson said claims that the church could not be sued were wrong, but he believed there were legal obstacles that could easily be amended, and he called for a two-year moratorium on the statute of limitations to allow abuse victims to pursue their cases.
Cardinal Pell's submission is available at
http://www.parliament.vic.gov.au/fcdc/article/1789
under "Pell, Cardinal George, Archbishop of the Archdiocese of Sydney".
For a statement from Cardinal Pell, click
here
SHARED FROM ARCHDIOCESE OF SYDNEY