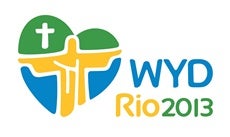 July 23-28 - Rio de Janeiro
"Go and Make Disciples of All Nations"

(Matthew 28:19)
USCCB RELEASE:
World Youth Day is bigger than the physical gathering of the Holy Father with hundreds of thousands of young people from across the world. World Youth Day is a call to all Catholic youth and young adults, whether they make the trip to Rio or are celebrating in their home country… to renew their faith in Christ and prepare themselves for the work of the new evangelization that lies ahead.
With that in mind, we are listing some of the "alternative" World Youth Day experiences taking place across the United States this summer. Click on the links below for more details on these activities.
ALSO: If you cannot make it to Rio de Janeiro or to any of these events listed below, you can still celebrate World Youth Day digitally. Stay connected via social media on your mobile device, your home, your office, your school, or wherever you may be.
Follow us on

FACEBOOK

: www.facebook.com/usccb andwww.facebook.com/worldyouthday

TWITTER

: www.twitter.com/wydusa and www.twitter.com/wyd_en
ONLINE

: www.usccb.org/wyd/
ALTERNATIVE WORLD YOUTH DAY CELEBRATIONS
California
Georgia
Illinois
Kentucky
Maryland
Massachusetts
Michigan
New Jersey
New York
Pennsylvania
Tennessee
Utah
Washington, DC
If you are hosting an alternative World Youth Day experience, please feel free to submit your event (ideally, with links and promotional materials) towyd@usccb.org.