Catholic Communications, Sydney Archdiocese REPORT
17 Jul 2013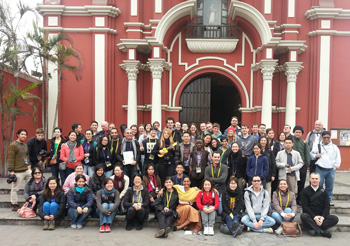 Sydney's 1800 pilgrims including youth leaders, priests, religious and bishops have arrived in South America! Many of them, including the group led by Archbishop of Sydney, Cardinal George Pell have now embarked on a five-day outreach mission in Lima's desperately poor shantytowns as part of their preparation for World Youth Day in Rio de Janeiro which begins in six days time.
Groups of WYD pilgrims began flying out of Sydney last weekend with His Eminence and the 72 members of the group he is leading, boarding their flight to Lima yesterday morning.
For many the journey took more than 26 hours with some groups having to wait 10 hours in transit at Chile's international airport in Santiago to make the connecting flights to Peru.
Despite the jetlag, the young people along with those travelling with them, touched down in Peru brimming with energy, enthusiasm and a determination to make a real difference to people's lives as part of their immersion experience in the lead up to World Youth Day in Rio.
"While we are here in Lima we are staying at a peaceful and beautiful retreat house run by the Sisters of San Jose of Cluny," Selina Hasham, Chair of the Australian Bishops Conference's National World Youth Day Committee wrote on her blog to Xt3.com this morning. Selina explained that each morning for the next five days, Sydney's WYD pilgrims and group leaders including His Eminence, Cardinal George Pell, will travel from the Retreat House to the outskirts of Lima to the favelas as the shanty towns on the periphery of the city are known.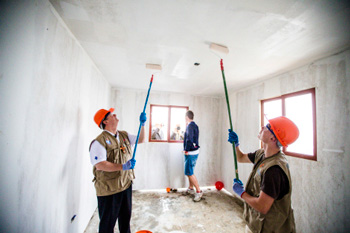 For the 450 strong contingent of student pilgrims in Years 10 and 11 from Sydney's 149 Catholic schools along with group leaders, staff and members of the Archdiocese of Sydney's Catholic Education Office (CEO) there was no sign of flagging spirits despite an epic journey during which many were awake for two days straight.
"We touched down at Santiago Airport at around 10.00am local time which is midnight Sydney time after a 12 hour flight," Mark Rix, Head of Communications at CEO blogged late yesterday, saying that despite the time difference and long flight, everyone was in great spirits.
"A few are sleeping in the seats but most of the students are talking or laughing or taking photos or mucking around with their phones. A small group of girls have just finished synchronized dance moves to a Beyonce song," he wrote on the CEO blog, adding that for some in the group including himself there was going to be a 10-hour wait in transit until the connecting to a flight to Lima, while others would be leaving four hours earlier.
"Lucky them. They will be checked in and maybe even asleep by the time we arrive at our hotel," he blogged.
But by this morning Mark was ruefully confessing that despite the 10 hour wait in transit he had missed the connecting flight to Peru.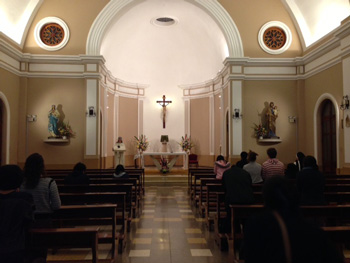 "Stupid is as stupid does. So let's call it for what it is. I am an idiot," he announced on his blog today explaining that he'd thought he was on the same flight as some of his colleagues - as the departures were around the same time.
"I also thought there were three flights. But in fact there were four," he added.
At the last minute after much cajoling he managed to catch the last seat on a later flight but by that time his luggage was on another plane leaving Mark wondering if he would have any clothes other than what he stood up in for the next five days in Lima, not to mention the following six days in Rio for World Youth Day.
Luckily Michael Hollis who is leading one of the CEO groups retrieved Mark's luggage from the Lima airport roundabout and had it taken to the hotel where it was waiting for Mark when he arrived at the group's hotel at 1.30 am this next morning.
Now rested, the groups of students from Sydney's Catholic schools will join the Archdiocese of Sydney pilgrims, travelling to Lima's favelas each day where the focus of the outreach mission is to build a series of concrete paths and stairways for the men, women and children who live there.
"We've been told by the Christian Life Movement who are preparing for our visit that the Peruvian Government only regards areas as viable for important infrastructure such as sewers, water mains and electricity, if the town has viable concrete paths and walkways," Selina explains.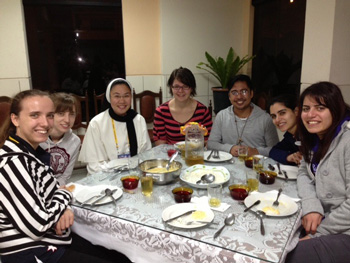 The construction of the paths and stairways will also offer safety to the men, women and children of these slum towns where houses are no more than makeshift shacks of scraps of corrugated iron, plywood strips and whatever else can be salvaged.
"There is scant rainfall and almost no trees on these hillsides which are steep and littered with rubble. With no paths or stairs the climb to find water or wood for heating is perilous particularly for the elderly and young children," Selina says.
The CEO group will also spend one day with the children of the shanty towns where they will bus them into the city, give them lessons in dental hygiene and health and then take them to one of the city's sports grounds so that they can enjoy games of soccer in safety and on a proper field.
For the 62 WYD pilgrims travelling with Bishop Peter Comensoli, Auxiliary Bishop of the Archdiocese of Sydney, Lima meant a day's stop over before heading to Cuzco, high in the Andes where they will work with the poor and spend a day visiting the ancient ruins of the 15th Century Incan empire city of Machu Picchu.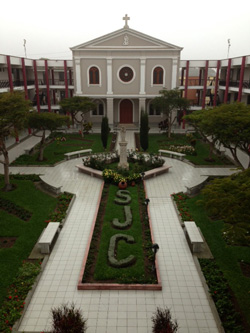 However there was time yesterday for Bishop Comensoli to lead the group on a tour of the famous Cathedral of Lima and the Sanctuary and Church of St Rose of Lima, patron saint of South America and the first person born in the New World to be canonised.
Also working in Lima's shanty towns is a team of young pilgrims from the Diocese of Parramatta led by the Bishop of Parramatta, the Most Rev Anthony Fisher OP. Arriving in Lima on Monday, the Parramatta contingent have already begun their mission and are working with Caritas South America to build and paint 10 houses for the poor.
"Last night I returned home with five young people covered in paint," Bishop Anthony wrote on the WYD - Catholic Diocese of Parramatta blog this morning, and recounted "the wonderful experience" of visiting the toddlers and their teachers in Lima's El Augustino shanty town preschool where the group is building the houses as well as meeting with the local priest in his "tiny poor chapel" and with the families who will ultimately live in the houses the young pilgrims are helping to construct.
SHARED FROM ARCHDIOCESE OF SYDNEY