Catholic Communications, Sydney Archdiocese REPORT:
10 Sep 2013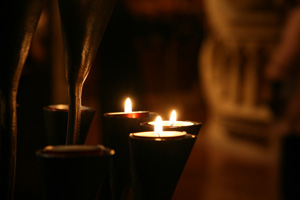 An unusual but very special sight will be displayed this Friday evening on the steps outside the west door of St Mary's Cathedral.

It will be 82 candles. The light of these candles will serve as a public memorial to the estimated 82 unborn children whose lives are tragically taken by abortion each day in New South Wales.

An initiative of His Eminence Cardinal Pell, and inspired by the Archdiocese of Los Angeles' Requiem Mass for the Unborn, the second annual Memorial Mass for the Unborn will be celebrated by Cardinal Pell and priests of the Archdiocese of Sydney this Friday evening (13 September) at 7.30pm at St Mary's Cathedral.

Chris Meney, the director of the Life, Marriage and Family Centre, says that the Mass is an important occasion for the Catholic community of Sydney to gather together to remember all those in our society who have been hurt by abortion:"We know that there are many families who have experienced or been affected by abortion and who grieve the loss of their unborn child.This Mass is an opportunity to remember and mourn these children, and to pray for their bereaved mothers and fathers, that they might experience God's love, forgiveness and healing."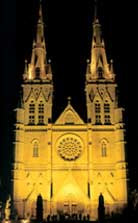 The solemn sung Mass will feature the St Mary's Cathedral choir and a procession in which the 82 candles will be taken up to the altar by epresentatives of Sydney Catholic schools, university chaplaincies, parishes, pro-life and pregnancy support groups. Following the procession, lights will be switched off and the Cathedral will be plunged into darkness for 82 seconds of silence to remember the 82 victims. At the conclusion of Mass, the candles will be moved outside the West Door to the cathedral steps, as a public memorial to the unborn.

Mr Meney said that he hoped this year's Mass would be a sign of the love and concern of the Catholic community in Sydney for all those hurt by abortion and a sign of their belief in the dignity and value of every human life. "The hundreds of people who came to St Mary's last year for the Memorial Mass for the Unborn witnessed to their belief in the preciousness of life and the importance of standing in solidarity with women who are pregnant in difficult circumstances.During the Mass, we were able to pray for and recognise the victims of abortion, and the truth that the bearing of life is a responsibility that women must not be left to bear alone."

"Your presence and prayers at this year's Memorial Mass for the Unborn will be a consolation to all who have lost a child to abortion, and a powerful sign to our public authorities entrusted with the defence of life that these children have not been forgotten."