Catholic Communications, Sydney Archdiocese,
18 Oct 2013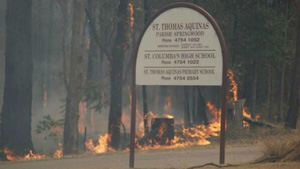 St Vincent de Paul Society NSW has launched a Bushfire Appeal to help victims of the devastating and on-going bushfire emergency. More than 2000 fire fighters continue to battle blazes across the Blue Mountains, at Muswellbrook in the Hunter Valley, Balmoral and Bargo in the Southern Highlands and at Wyong on the Central Coast.
Hundreds of homes are feared destroyed with many hundreds of people left homeless with little more than the clothes they are wearing.
Five teachers and seven students from two Catholic schools at Springwood in the Blue Mountains are among those who have lost their homes.
This morning news also broke that the fire emergency had claimed its first victim with the death of a 63 year old man who suffered a fatal heart attack while fighting to save his house from the approaching inferno at Lake Munmorah on the NSW Central Coast.
Premier Barry O'Farrell described the situation as the gravest bushfire emergency in NSW in more than a decade. He also believes it will be a miracle if there are no more casualties as a result of the monstrous fires which have burned more than 100,000 hectares of land so far and shrouded Sydney with smoke and ash.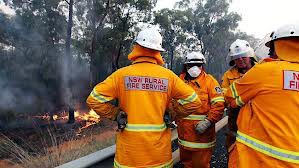 "Vinnies members work and live in the communities affected by these fires which means we will be there for the long haul, helping people rebuild their lives in any way possible for as long as they need," says Ray Reynolds, NSW State Council President of St Vincent de Paul Society NSW when announcing details of the NSW Bushfire Appeal this morning.
Although Vinnies op shop stores in Springwood and Katoomba had to close early for staff to rush home to protect or check on their family and their homes, members nevertheless have already given clothes from the stores to many of those who have been made homeless or are unable to return home because of the fires.
With many local residents evacuated to the Springwood Sports Centre and Bowling Club, Vinnies stepped in last night to provide mattresses and blankets for those forced from their homes.
"Members leapt into action last night supplying blankets and mattresses for the evacuation centre as soon as they heard they were needed," says Deacon Tony Hoban, Executive Officer for Vinnies- Parramatta.
Vinnies Springwood Centre at 272 Macquarie Road Springwood is also offering assistance to those who may need it, including food vouchers to those affected by the fires.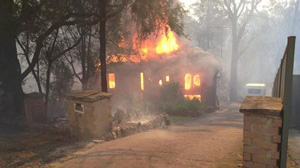 "Many of our Vinnies members in the Blue Mountains have lived there for decades and are extremely skilled at knowing what is needed in an emergency and how to help. They are all extremely generous with their time and their hearts and are doing whatever needs to be done to bring comfort as well as practical help to those affected by these fires," he says.
Vinnes is well known for hitting the ground running in times of natural disasters, and is always there to assist whenever there is a drought, flood or bushfire emergency.
Although in times of these emergencies the public are keen to donate clothing, blankets and furniture, Vinnies and other welfare agencies say that financial donations are the most effective way of helping.
"For the hard hit communities, financial as well as emotional assistance is vital," says Michael Perusco, CEO of Vinnies NSW, and says financial donations enable those on the ground to provide the right sort of assistance to the people who need it most.
He also says that in the difficult weeks and months ahead when the shock begins to wear off and the trauma of the fire and all that has been lost starts to hit home, Vinnies will be there, offering friendship, compassion and practical assistance as people start rebuilding their homes and their lives.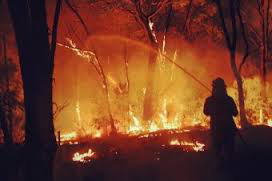 Springwood and surrounding communities in the Blue Mountains remain some of the hardest hit areas with at least 40 homes - and possibly many more - destroyed by the fast moving inferno yesterday.
For students at St Columba's Catholic High School and at St Thomas Aquinas Primary School as well as for staff and parents it was a tense and difficult afternoon as the encroaching fire forced the evacuation of both schools. As sirens wailed, fire trucks raced to the scene, water bombing helicopters whirred overhead and fire fighters put their lives on the line, students were taken to the evacuation centre at the Springwood Sports Club before finally being reunited with their parents several hours later.
Today both schools remain closed along-with Winmalee Public School.
Students at McCarthy Catholic College, Emu Plains have also been advised their school was closed to all but those pupils sitting HSC exams. According to the Parramatta Catholic Education Office this is to make room for any Year 12 students from Columba's High School to continue their HSC examinations at McCarthy.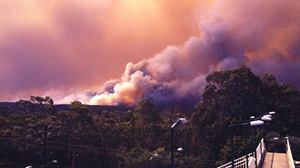 The NSW Board of Studies however has reassured HSC students in fire affected areas to liaise with their school's principal and if cut off from an exam centre, to remain where they are and stay safe.
"Students unable to attend an examination due to a natural disaster are eligible to lodge an illness/misadventure appeal to ensure they are not disadvantaged," the Board says.
For youngsters in the fire-ravaged Springwood area, the Parramatta Catholic Education Office made provision for youngsters who normally attend St Thomas Aquinas Primary School and need supervision today to be cared for at the St Finbar's Primary School, Glenbrook.
A full assessment of St Columba's High and St Thomas Aquinas Primary Schools will take place once it is safe to do so but it is believed at this stage that the schools have only suffered peripheral damage.
The Bishop of Parramatta, Bishop Anthony Fisher OP said late today he understands homes, property and even some schools in the Diocese are still threatened by the fires
but thanked the Rural Fire Service, NSW Police and all volunteers for their courageous efforts in protecting human life and property to date.
"I also want to recognise and thank Mr Sergio Rosato, Principal of St Thomas Aquinas, and Mr Phil Stewart, Acting Principal of St Columba's, and all their staff for helping ensure the safety of the school Children," Bishop Anthony said.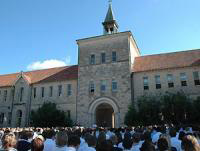 "Thank you for supervising them well into the night. The Diocese will do everything that it can to assist the wider community in relief efforts."
Meanwhile counsellors from the Diocese of Paramatta's welfare agency, CatholicCare have been put on alert and are also available to help children, families and individuals cope with the roller coaster of emotions in the wake of losing their home and pretty well everything else they own.
Today, fire fighters from the ACT and other areas of NSW as well as crews from interstate have joined the battle to try to contain the fires.
Fanned by sweltering temperatures in the mid to high 30s and whipped by winds of more than 110 kph, the fires erupted across NSW yesterday afternoon.
With terrifying speed and ferocity the fires had burned through 100,000 hectares of land within the first 24 hours, destroying a still unknown number of homes, outbuildings, infrastructure and in some cases, livestock and beloved pets.
Despite the cool change in the evening, the southerly shift in the winds' direction triggered new fire fronts.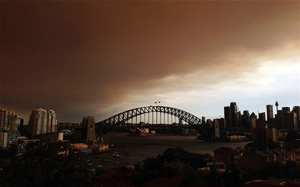 Today although winds and the temperatures have dropped, the NSW Rural Fire Services is warning that a return to high temperatures on Sunday and Monday will exacerbate the emergency with some fires not expected to be brought under control for some weeks.
"Everything is tinder dry. You stand on the grass and it crackles underfoot," one resident of Muswellbrook said this morning.
As fire continues to race across the Hunter Valley region where Newcastle Airport remains closed and Muswellbrook battles smoke and flames, Bishop Bill Wright of the Diocese of Maitland-Newcastle extended his thoughts and prayers to the family of the man who died at Lake Munmorah and to all those who have lost their homes, property, pets or livestock.
"My heart goes out to individuals and families, particularly those in the Hunter region and Diocese of Maitland-Newcastle," he said and praised the dedication of fire fighters, many of whom are volunteers, who put their lives on the line to help protect the lives and homes of others," he said adding that he prays God will watch over them and give strength, courage and hope to all those who need it over the coming months.
SHARED FROM ARCHDIOCESE OF SYDNEY