Catholic Communications, Sydney Archdiocese,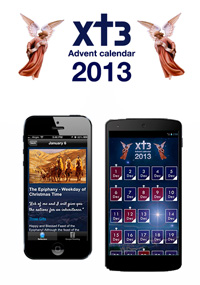 The Archdiocese of Sydney's social networking site xt3.com has launched its latest Advent calendar which is loaded with a variety of resources as well as being available as an app for iPhone, iPad and Andrioid devices.
This is the fifth year xt3.com has released its special Advent online calendar. It features multimedia content and reflections throughout Advent and the countdown to Christmas.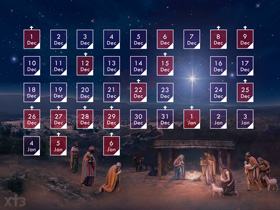 Each day a new door of the calendar can be opened to reveal a daily reflection and bible quote, or video or podcast or an article or interview.
This year there is more content than ever before including a reflection on the journey of the relic of St Francis Xavier, a social justice message from Caritas Australia for Christmas, a talk on Our Lady of Guadalupe by Archdiocese of Sydney Auxiliary Bishop Peter Comensoli, resources to celebrate the birthday of Pope Francis and of course the Christmas Message from the Archbishop of Sydney Cardinal George Pell.
There is also the Christmas story told by three young girls - in their own warm, delightful and often very amusing way.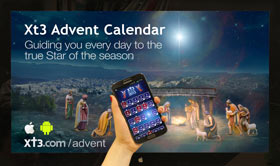 The xt3Advent Calendar has always been popular with many people and parishes, youth groups and students and has provided great resources for schools.
It has also been sourced by people in Europe, The UK, Canada and the USA in particular.
The first door of the digital calendar will open on the first Sunday of Advent, 1 December 2013.
You can follow your Advent journey no matter where you are . Simple search for "xt3 Advent" in your App store or follow the link at www.xt3.com/advent
SHARED FROM ARCHDIOCESE OF SYDNEY