ARCHDIOCESE OF SYDNEY RELEASE
Catholic Communications, Sydney Archdiocese,
15 Nov 2013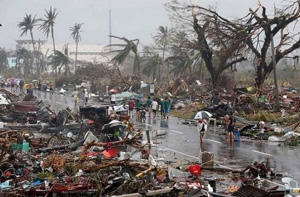 The United Nations has issued an update of the number of those killed by Typhoon Haiyan to 4460 people. However officials believe this will inevitably rise as damage is hampering rescue efforts.
Emergency rescue teams and international aid groups are still desperately trying to reach devastated villages and towns which still remain cut off seven days after the typhoon struck.
The UN's Office for the Coordination of Humanitarian Affairs has also announced that 900,000 have been displaced with as many as 12 million in the Philippines affected in some way by one of the most powerful storms to make landfall.
Medical teams, aid workers and soldiers are crammed on to flights heading to landing strips that are cleared and close to devastated areas. Supplies are trickling in because roads are either strewn with debris or covered in fallen trees or have even collapsed.
They arrive with food, medical supplies and body bags and ferry away the dead.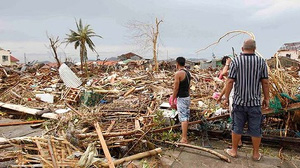 Tens of thousands of people are living in the open or severely damaged buildings, exposed to rain and wind. Many are injured, all in desperate need of food, water and sanitation.
Typhoon Haiyan struck the Philippines one week ago with wind gusts of more than 350kph and storm surges two storeys high.
"The havoc and widespread destruction is on the scale of 2004's tsunami," says Caritas Australia's Humanitarian Emergencies Co-ordinator, Richard Forsythe.
"The sheer size of Typhoon Haiyan is difficult to grasp," he says explaining that not only did the super-storm bring gusts with a force that ripped off roofs, tossed cars and fishing boats like confetti and tore babies and children from their parents arms but it had a massive storm front more than 800 kilometres in diameter and an eye that was 15 kilometres wide.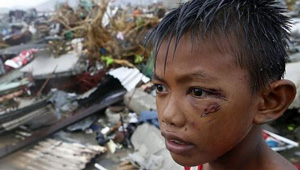 Within hours of the storm's violent assault on the Philippines, Caritas Australia and other members of Caritas Internationalis, the aid and development arm of the Catholic Church had teams on the ground and were helping to provide food, clean drinking water and shelter to traumatised men, women and children in some of the hardest hit areas such as Leyte, Tacloban ,Palo and Samar.
Within two days, Caritas had freighted in 20,000 tarpaulins for emergency use along with 1 million water purification tablets to help as many as 16,000 families. A further 18,000 emergency shelter supply kids, 5000 water, sanitation and hygiene kits and 5000 non-food item kits had also been delivered.
Caritas Response teams immediately travelled to some of the hardest-hit regions in areas such as Leyte and North Samar Island, as well as Panay Island to assess damage and exactly what those traumatised by the catastrophic typhoon needed, not only in the immediate term but over the next five years or more.
"Recovering and rebuilding from a natural disaster on this scale will take at least five years and that is what we are looking at and planning for," Richard Forsythe says adding that a great deal of money will be needed to help victims of the ferocious force of Typhoon Haiyan rebuild and recover.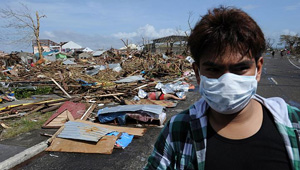 One week on and countless cities, towns and villages across the Philippines still have no electricity. Communications remain down and in those areas impacted by the super storm, not many houses remain. Few shops or businesses survived and none are open and for survivors struggling to cope, there is little food, no medicines and infrastructure across entire regions has been almost totally destroyed.
Safe drinking water is at a premium. But people are so desperate they have begun drinking water from pools among the rubble and rivers that are almost certainly contaminated. In the heat and humidity, the thousands of bodies are still lying amidst the rubble of devastated cities and towns and pose new dangers with an increased risk of infection and deadly diseases.
Hunger and thirst seven days after the typhoon hit have driven the starving to resort to looting and scavenging for any food they can find.
Two days ago eight people were crushed to death after a wall collapsed on top of them during a raid on stockpiles of rice in a government warehouse in the town of Alangalang.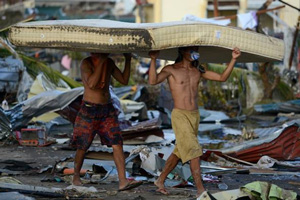 Throughout the week teams of doctors and nurses from Australia and other nations have flown to the Philippines with portable hospitals and a cargo of medicine. Australia has also pledged $10 million to help recovery in the stricken country. In addition the US has sent in 2000 US Marines and massive cargoes of medicines, food and supplies.
But the widespread scale of the damage and inaccessibility of so many of those affected by the Typhoon Haiyan is slowing down the delivery of this urgently needed aid.
Today the UN warned that fuel in the devastated city of Tacloban, once a thriving metropolis of 200,000 will run out within the next few days. The Mayor of Tacloban also revealed that workers have the terrible choice of having to choose between using their trucks to distribute food to the desperately hungry or to collect the thousands of bodies.
Caritas Australia has committed $1.5 million to support the international Caritas network's appeal to help communities impacted by what is now being considered as one of the worst humanitarian crises.
To assist this mammoth effort Caritas Australia has also an appeal for Typhoon Haiyan-Philippines. To donate log on tohttp://www.caritas.org.au/