Catholic Communications, Sydney Archdiocese,
13 Dec 2013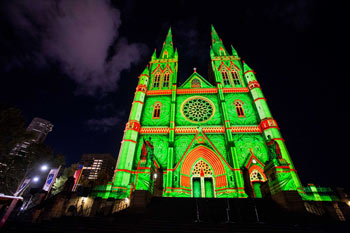 The Lights of Christmas 2013 projected an incredibly spectacular, colourful display of art and animation on to the 75-metre southern facade of St Mary's Cathedral last night.
Thousands of people gathered in the forecourt for the first night of what has become an increasingly popular tradition for Sydneysiders.
Using digital technology and using 12 powerful projectors the Lights of Christmas began with the story of the nativity which then moved into a wonderful sequence the children found exhilarating - Santa arriving by way of the Church spires into a child's dream to bring the toys alive which then move on to decorate a huge Christmas tree.
The final sequence of Madonna and Child features beautiful Renaissance art works of the Mother of God.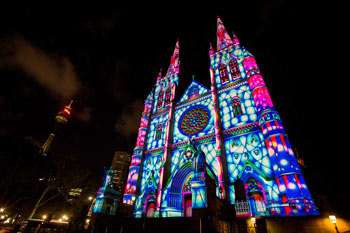 Prior to the display the Australian Girls Choir and also soloist Jake Ryan entertained the crowd with Christmas carols.
Thousands of people came to the first night which was officially opened by the Archbishop, Cardinal George Pell.
The Principal Partner of the Lights of Christmas 2013 is the Australian Catholic University and the Vice Chancellor Prof Greg Craven also welcomed the crowd.
Guest from the major sponsor, Catholic Cemeteries and Crematoria were also at the first night which dazzled not only those watching in the Cathedral forecourt but people walking through Hyde Park.
The Lights of Christmas will now be on every night at 8.30pm up to and including Christmas Day night with a variety of choirs performing beforehand.
This free public event will be on no matter the weather!
SHARED FROM ARCHDIOCESE OF SYDNEY