Catholic Communications, Sydney Archdiocese,
31 Jan 2014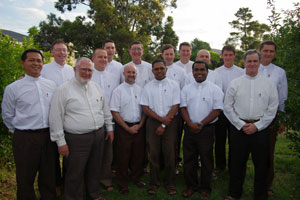 A milestone in the life of the Catholic Church of Australia will be celebrated at St Christopher's Cathedral, Canberra on Saturday, 8 February when Archbishop Christopher Prowse will preside over the inauguration of the Missionaries of God's Love (MGL) Religious Institutes of Diocesan rite.
Founded by Father Ken Barker in 1986, the MGL congregation has been formally recognised by the Pontifical Congregation of Religious Institutes and Societies of Apostolic Life to become one of only a tiny handful of Catholic religious congregations in Australia that has not evolved or a part of a European or other overseas religious order.
Even congregations in Australia that operate independently from their founding order, nevertheless retain close links to these religious institutions along with their traditions as well as their shared history.
Over the past 175 years or more, there have only be two or three religious congregations that been founded in Australia by Australians. The most famous of these is the Sisters of St Joseph of the Sacred Heart which was founded by St Mary MacKillop and Fr Julian Tenison-Woods in 1866 and approved and recognised by the Vatican in 1874.
"There have been one or two other religious congregations for men, I believe that were established in Australia and which the Vatican formally recognised, but I understand these have died out," Fr Ken says.
The Moderator as well as founder of MGL, Fr Ken says recognition of the Missionaries of Love by the Vatican was given almost two years ago. But the formalities at Canberra's St Christopher's Cathedral had to be delayed after the Most Rev Mark Coleridge, Archbishop of Canberra-Goulburn was appointed Archbishop of Brisbane and his successor, the Most Rev Christopher Prowse was not installed as the seventh Archbishop of Canberra-Goulburn until just over two months ago.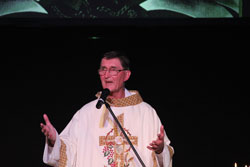 The MGL brotherhood was established by Fr Ken Barker when three fellow members of Canberra's Disciples of Jesus Covenant community approached him independently, expressing a call to the priesthood while also wishing to remain part of the community.
Ordained as a priest in 1974, Fr Ken later attended the Catholic University of America in Washington DC, graduating with a PH.D in religious education. Returning to Australia he visited old friends and came into contact with Australia's charismatic covenant communities.
"I was impacted by the way this charismatic renewal and commitment was being lived on in people's lives, whether they were single, married or consecrated, and after hearing a testimony from a priest who told me how his life had changed, I realised this was the way I wanted to be involved with the Church and with God," he says.
But when the young men from the Disciples of Jesus Covenant community, told him they wanted to become priests, Fr Ken and the three would-be priests agreed to pray together for a year. For 12 months the four prayed together before the Blessed Sacrament, as well as individually seeking direction from the Lord and His plans for them.
Through prayer and in particularly through the communal prayers of the four men, it gradually became clear to Fr Ken and the others that the Lord wanted him to form a Brotherhood to evangelise young people, preach the Gospel with passion and joy and to help and live among the poor.
An MGL fraternity house was established in Canberra where the brotherhood sought to live the Gospel in a radical manner by imitating Jesus in his poverty, and developing a strong life of prayer.
From the start, the brotherhood had a strong commitment to contemplative prayer, adoration of Jesus in the Blessed Sacrament, and charismatic worship which empowered and enabled them to bring God's love to others, especially the marginalized and alienated. Through the grace and outpouring of the Holy Spirit the brotherhood was also determined to enable people to know Christ personally.
"The importance of knowing Jesus personally was something I had never come across before," says Fr Chris Ryan of his first contact with MGL in 1992. "No one had explained it to me before. And when I learned about this, it had a very big impact on me."
Today Fr Chris Ryan is an MGL priest and Director of Mission at MGL's John Paul II Formation House in Melbourne. But at the time he first discovered the importance of knowing Christ personally, he was in his final year at school and had been taken on a retreat by one of his teachers who was also a member of the Disciples of Jesus Covenant community.
Joining the MGL brotherhood in 1994, Fr Chris was ordained a priest in 2002, and is well known to thousands of Australians as the young priest in charge of the WYD Cross and Icon and the 12 month journey he made to every corner of Australia in the lead up to World Youth Day in 2008.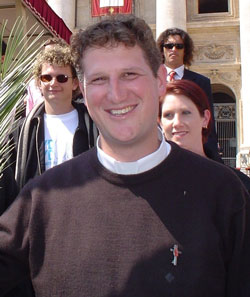 Embracing MGL's mission to live a radical life for God of evangelisation and helping people, especially young people, find God in their lives, Fr Chris says the most memorable moments of his life continue to be the chance to talk with, listen to and pray with young people, and help them in some way encounter the love of God.
"That's what gets me out of bed in the morning and what brings me the most joy in life," he says.
While priestly vocations have decreased among some traditional religious congregations, MGL continues to expand. More than 28 years since MGL was founded, the congregation has more than 60 members, 19 ordained priests, one ordained deacon, one who is about to be ordained a deacon and a third who is a consecrated brother.
In addition there are 18 men nearing the end of their priestly studies at John Paul II Formation House and a further 15 novitates and pre-noviates in initial formation in Canberra.
MGL also has missions not only in Canberra, Sydney and Melbourne but in Darwin where chaplaincies minister to Indigenous communities and in Manila where MGL priests and brothers live amongst the desperately poor in the squatter settlements of North Quezon City.
Next month MGL will celebrate a further milestone when a second overseas mission will be established in Indonesia.
At the Mass at St Christopher's Cathedral next Saturday MGL's priests and brothers will make their perpetual vows public and a similar number will renew their initial vows.
SHARED FROM ARCHDIOCESE OF SYDNEY