City's Deaf Community Farewells Beloved Priest
Catholic Communications, Sydney Archdiocese Release:
26 Jun 2014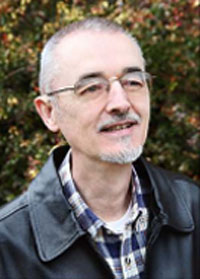 The life of former Director of the Ephpheta Centre and for many years the much loved chaplain to Sydney's deaf community, Fr Peter Woodward was celebrated today at a funeral service at Rydalmere.
Director of the Archdiocese of Sydney's Ephpheta Centre, Steve Lawlor together with the Centre's staff and many of the city's deaf community attended the Mass of Christian Burial for Father Peter at the Holy Name of Mary Church.
Suffering ill health for the past several years, Fr Peter died on Friday, 20 June at Westmead Rehabilitation Hospital.
The Mass was celebrated by Bishop Anthony Fisher OP, Bishop of Parramatta and was also signed in Auslan by an interpreter to include and involve the profoundly deaf and hard of hearing who attended.
Family, friends, parishioners and colleagues remembered Fr Peter's countless acts of kindness and his quiet humility.
One of the eulogies was delivered by Steve Lawlor who paid tribute to his longtime friend in Auslan, the sign language used by Australia's deaf community.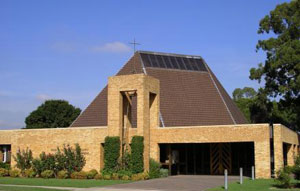 "I have known Pete, as I always called him, since his ordination in 1997 and through his work over many years at the Ephpheta Centre," Steve told Catholic Communications through an interpreter.. "It was Pete who invited me to work at the Ephpheta Centre back in 2000 and together we experienced many ups and downs during the ensuing years."
"Pete was an important part of the Deaf Ministry in Sydney for many years. He was loved and respected by the Community and the staff at the Ephpheta Centre, and was a great support to me when I was appointed to the role of Director, for which I will always be grateful," he said.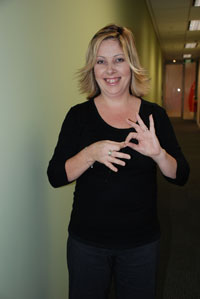 Fr Peter was Director of the Ephpheta Centre from 1999 until 2005 when Steve was appointed the world's first non-hearing director of a Catholic deaf facility by the then Archbishop of Sydney, Cardinal George Pell
"I believe Cardinal Pell thought having a deaf person as director of Ephpheta would be a good opportunity for leadership role modelling for Sydney's deaf community," Steve recalls and remembers the advice and unfailing support in his new role he received from his friend and former Director of the Centre, Fr Peter.
Although no longer the Director, Fr Peter continued his close association with Ephpheta Centre and Sydney's deaf community and his role as Chaplain to the city's non-hearing or hard of hearing Catholics.
Proficient in Auslan, Fr Peter conducted Masses for the deaf using sign language and was also able to use Auslan to communicate with the profoundly deaf or hard of hearing, whether they were elderly, youngsters or teenagers, reaching out to them in friendship as well as offering them pastoral care and counsel.
"Pete was always determined to work tirelessly to ensure the complex underlying messages of the Gospel values were easily understood and clarified for our Deaf Community members," Steve said describing this as an invaluable talent which is now sorely missed by all those at Ephpheta as well as the deaf community at large.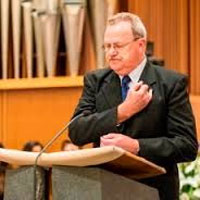 Although only in his 50s, Fr Peter had struggled with increasingly severe health issues and in December last year he reluctantly retired from his role as chaplain at the Ephpheta Centre. His final Mass was the Christmas Eve Vigil Mass on 24 December last year which was held in the garden at the Ephpheta Centre and its relatively new premises at Punchbowl.
During the final weeks of his life, many of the deaf community visited him at Westmead Rehabilitation Hospital and prayed for his recovery.
"We all loved him and he will be greatly missed," says Nicole Clark, Assistant to the Director and Interpreter at the Ephpheta Centre. "He was genuinely very kind and full of humility. There was also always a peace and serenity about him and even though we knew he was very ill we were all extremely shocked and saddened by the news of his passing."
Fr Peter was born in Toronto near Newcastle on 16 November 1955 and entered the Benedictine Monastery at New Norcia WA as a novice. He later joined St Paul's National Seminary, Kensington and in 1994 continued his studies at the House of Priestly Formation in the Diocese of Parramatta.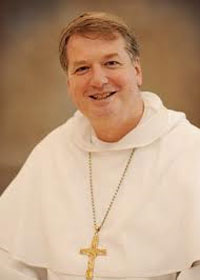 Ordained a Deacon on 13 September 1996, he served at St Anthony's Parish, Toongabbie and the following year was ordained to the priest hood on 18 April 1997.
Appointed assistant priest to St Anthony's Parish, Toongabbie he later served as assistant priest at St Matthew's Parish, Windsor and in 1999 became chaplain of the Sydney Archdiocese and Parramatta Diocese deaf community.
His ministry of Sydney's deaf community continued until his retirement in December last year.

Shared from Archdiocese of Sydney