Bishops of Brazil Issue Red Card to FIFA & World Cup Organisers
Catholic Communications, Sydney Archdiocese report:
19 Jun 2014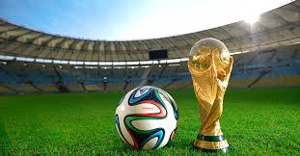 Caritas Australia has joined the Catholic Bishops of Brazil in expressing concern for Brazil's poor and the estimated 200,000 families in the crowded favelas of Sao Paulo, Rio de Janeiro and other cities who have been forcibly evicted to make way for the construction of sports stadiums, roads and state of the art World Cup facilities.
As the World Cup competition began on 12 June, the Catholic Bishops Conference of Brazil issued a "red card" to all levels of Brazil's Government and to FIFA, the international body set to make more than $4 billion from the month-long event.
In soccer a "red card" is given to players who commit serious fouls and are expelled from the game, and it was on a "red card" that Brazil's bishops voiced their concerns at the "inversion of priorities" where more than $11 billion of public money, instead of being spent on the basic needs of Brazilians, has been put into a sporting event.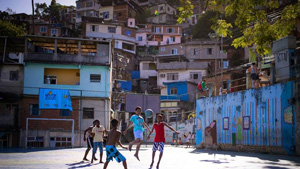 "The money should have been used in health, education, sanitation, transportation and security and not to build huge stadiums," the Bishops insist and strongly criticise organisers for the removal of entire communities and many thousands of families to make way for these stadiums and other World Cup infrastructure.
Caritas Australia which supports programs in Brazil's favelas in partnership with the Movement for the Defence of Favela Residents (MDF) shares the Brazilian bishops' concerns, particularly with regard to families and communities of the favelas.
Although frequently described as slums, Brazil's favelas are much more and are often the result of the poor coming together to build their homes, share utilities and create a safe environment for themselves and their children.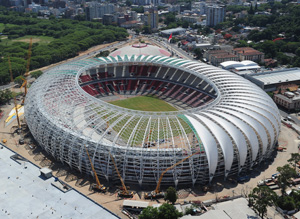 "Over many years whenever I was in Sao Paulo I would visit one particular favela. But last year when I arrived there, the favela and the families I had come to know, were gone. The entire area had been cleared and every one of 5,000 families who used to live there had been evicted. I later heard people had been given just two hours to collect their belongings before the bull dozers moved in," says Sister Margaret Fyfe who for more than 14 years was Caritas Australia's Co-ordinator for Latin America.
In January this year Caritas Australia appointed the Brigidine Sister to a new role. But although she is now Regional Engagement Coordinator for Victoria, Tasmania and South Australia, her love and concern for the people of South America and in particular those of Brazil's favelas remains unabated.
"In Brazil extreme wealth flourishes side by side with extreme poverty," she says and is fearful that the many thousands of displaced families and communities of the favelas will more than double as Rio de Janeiro prepares for the 2016 Summer Olympics.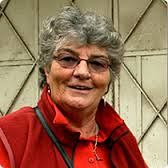 "In Brazil 21% of the country or more than one in five live below the poverty line. There are more than 11 million people living in the favelas and discrimination, unemployment and lack of access to basic resources continue to be an ongoing problem for these people," she says and wonders how a Government which can find $12 billion in public money for construction and reconstruction of soccer stadiums across Brazil along with brand new highways to take visitors from the airport to the nation's best luxury hotels, refused to find a similar amount for much needed hospitals, schools and education.
For the past two years, in favelas across Brazil entire communities have been forced out of their homes, often at gunpoint as Brazil's police and army cleared vast tracts of land for new stadiums and infrastructure for the World Cup.
"Some of these families were offered alternative accommodation by the Government but these were in areas more than 50 kilometres from the city. To earn money the people in the favelas rely on getting construction work in the city, on running little stores and selling goods door to door. By moving them out of the city, they not only lose their livelihoods but few could afford the bus fares that would be needed to get them into the city each morning," Sr Margaret says. "It is difficult to build a viable future for yourself when you are moved far away from schools, work and other facilities."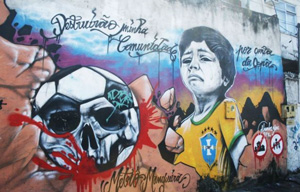 Although large sporting events bring many benefits to host countries, they can and frequently do, adversely affect the most marginal and vulnerable, she says.
"The costs of staging the World Cup and the 2016 Summer Olympics will cripple the poorest communities in Brazil long after the events have been held," she adds and points out that already the World Cup has resulted in a sharp increase in the cost of living among the favela families Caritas Australia and MDF work with.
Evicting or moving the poor from inner city areas to make way for large international sporting events is not new. When Beijing hosted the Olympics in 2008, the Geneva-based Centre of Housing Rights and Evictions estimated as many as 1 million poor - a figure disputed by China - were displaced to make way for nine spectacular Olympic venues including the famous Australian-designed National Aquatics Centre.
When the Olympics were held in Seoul in 1988, the Geneva-based group claims as many as 750,000 families were displaced to make way for construction of stadiums and facilities.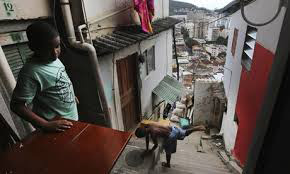 "Nations are keen to host these big international events and for Brazil, the Government sees hosting the World Cup and later the Olympics as a sign to the world that Brazil is an emerging and successful economy. What is not being addressed is the inequality in this progress and the thousands of families who have lost their homes and their communities," she says.
Caritas Australia has begun a petition to urge FIFA and the International Olympic Committee (IOC) to ensure when choosing host countries and overseeing their multi-billion dollar sporting events, that the events are just and sustainable and do not impact the poor.
In Brazil a campaign begun by the Bishops and involving more than 30,000 women religious, nearly 8000 priests and 2700 religious brothers has asked that the people of the favelas and those living on the streets not be expelled or evicted from their locations by police or government officials.
"FIFA officials and those at the IOC need to take steps to ensure that everyone, not just the privileged few, enjoy the benefits of the World Cup and the Olympics. By doing this, they will also be ensuring that these events remain true to the principles of equity and fairness that underpin them," Sr Margaret says.
To find out more about Caritas Australia and to sign the petition for justice and fairness in sport, log on tohttp://www.caritas.org.au/
Shared from Archdiocese of Sydney