Sister Philomene's Legacy Of Love, Caring, Wisdom & Compassion
Catholic Communications, Sydney Archdiocese,
21 Jul 2014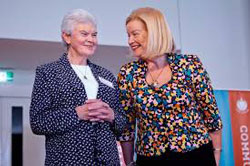 Kincoppal-Rose Bay students remain devastated by the loss of Sister Philomene Tiernan, rscj who was among the 298 men, women and children who lost their lives when Malaysian Flight MH17 was shot down over Eastern Ukraine on Friday.
"They are still stunned and in shock," says Kincoppal-Rose Bay Principal, Hilary Johnston-Croke who says the chaos at the site of the downed plane is adding to their distress.
The school is providing counselling to students who have been deeply affected by the tragic loss of Sister Phil as she was affectionately known as well as all the other passengers on the doomed flight.
Photographs of Sr Phil have been posted at the entrance to the school's chapel as well as inside the chapel and students are being encouraged to pray and write their thoughts and memories of her.
Condolence books have been placed throughout the school for primary as well as senior students to remember Sr Phil and what she meant to them.
"Our school motto is 'Cor Unum' which means one heart and this was very much how Sr Phil lived every day of her life. She lived the love of the Sacred Heart in all her interactions each and every day," Ms Johnston-Croke says.
Sr Phil was associated with Kincoppal-Rose Bay and the Rose Bay community for more than 30 years, holding variety of roles including Director of Boarding and teaching thousands of students, while providing pastoral care inside and outside the school.
"We are all honoured to have known her," says Ms Johnson-Croke who describes the 77-year-old religious sister as her mentor and close personal friend. "Sr Phil touched, cared about and deeply influenced many many lives and the wonderful love she showed all those she dealt with, and her compassion and kindness will be greatly missed."
Born in Murgon, Queensland, Sr Phil grew up with her two brothers and one sister at the hotel and pub the Tiernan family had owned since 1912. As a child she clearly remembers the years of World War II when her uncle, Flight Sergeant Patrick Tiernan left Murgon in 1942 to join the army and head for Britain where he joined the RAAF.
Two years later, Uncle Pat as she called her 29 year old uncle, was part of the seven man crew in a Halifax MZ715 bomber shot down over the Netherlands.
A telegram sent to her father, John Tiernan in Murgon later confirmed that Flt Sgt Tiernan had died during the assault.
Not only is it a strange coincidence that both Sr Phil also died in a plane that had been shot down exactly 70 years later, but one of the reasons for her trip to Europe had been to attend a memorial service in the Dutch town of Dodwaard Uden where the body of Patrick Tiernan was buried.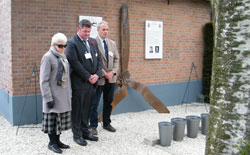 The people of the small town in the Netherlands had buried the young Flight Sergeant and tended his grave.
Over the years different members of the Tiernan family had visited the grave in Dodwaard Uden and this year, Sr Phil was among 11 members of her extended family to journey to the Netherlands for the 70th anniversary of his death.
After the memorial service for her beloved uncle, she travelled to All Hallows College in Dublin, Ireland where she spent the month of May completing a faith and spirituality renewal course.
"She was of Irish origin generations back and really loved her stay in Ireland," says her close friend of many years, Irish Sister of the Sacred Heart, Sr Aideen Kinlen rscj. "She really loved her stay in Ireland and said it was a great 'craic' here. It wasn't her first time in Ireland. She was here a couple of years ago too."
Sr Aideen said her nephew was bowled over by the Australian sister's warmth and said "I've never met a nicer nun."
"Sr Phil was a wonderful person - a happy, committed religious woman. And she was a very outgoing type of woman with a terrific sense of humour," she says adding that she was one of the last people to spend time with the Australian-born nun.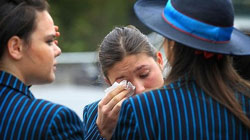 As part of her trip, Sr Phil attended a conference in the UK and visited ST Francis Xavier Church in Paris where the founder of the Society of the Sacred Heart is buried.
"We travelled together to Paris and went on to a retreat in Joigny. It was just her and me on the retreat and we travelled together after," Sr Aideen says, recalling how on the last day of their pilgrimage, Sr Tiernan took lots of photographs to show her students, teachers and friends back home.
The two sisters first met in Rome in 1993 when she was struggling to come to terms with the violent death of her brother, Dermot Tiernan who was the publican at the family's hotel in Murgon and had been killed when he tried to break up a fight.
Sr Aideen was one of the last people to spent time with Sr Phil and says as they talked during the retreat she suggested to Sr Phil to think about her own death and read to her a poem "So what will matter."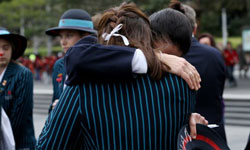 Excerpts of the poem read "Ready or not, some day it will all come to an end. There will be no more sunrises, no minutes, hours or days. What will matter is not your memories that live in those that loved you. What will matter is how long you will be remembered and by whom."
For all those at Kincoppal-Rose Bay, staff and students both past and present as well as the wider community, Sr Phil will be long remembered with great love.
"She was a leading light and is an incredible loss to the Society of the Sacred Heart and a huge loss to our school community," Ms Johnston-Croke says. Shared from Archdiocese of Sydney