Northern Territory Mourns Death of Darwin's Much-loved "Bishop Ted"
Catholic Communications, Sydney Archdiocese,
11 Aug 2014
A Mass of Christian Burial will be celebrated at Darwin's St Mary's Cathedral for 83-year-old Bishop Emeritus Edmund John Patrick Collins who died on Friday, 8 August in Sydney.
After the ceremony, which is expected to be held on Tuesday 19 August, "Bishop Ted" as he was popularly known will be laid to rest in the Crypt of the Cathedral where he served as the Catholic Diocese of Darwin's fifth Bishop from April 1986 until his retirement in July 2007.
"He was a man of great kindness and pastoral gifts, much loved not only by members of his own faith but by all who came into contact with him," the current Bishop of Darwin, the Most Rev Eugene Hurley said yesterday.
Bishop Ted who was surrounded by family when he died had been in declining health over recent months.
Full of humour and compassion, one of his key legacies for which he will long be remembered not only in the Northern Territory but across Australia is his support of Aboriginal people. Inspired by Pope John Paul II's historic speech in Alice Springs to Australia's first peoples, Bishop Ted encouraged Aboriginal Catholics to practice their faith in culturally appropriate ways, allowing and incorporating didgeridoo playing, smoking ceremonies and clap sticks as part the Catholic Mass.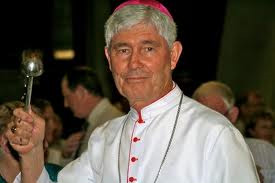 His also stood beside those who had been taken from their families as children and at a time when many in Australia preferred to pretend there was no such thing as a "stolen generation," Bishop Ted spoke out publicly calling for help and counselling for Aboriginals who had been removed from loved ones as children, and suffered great and ongoing trauma as a result.
Many in Australia will also long remember Bishop Ted for his very public and uncompromising fight in 1995 to try to prevent the Northern Territory Government from legalising euthanasia. Bishop Ted was instrumental in bringing church leaders from all denominations together as a group to oppose the Rights for the Terminally Ill Act, and warned that the legalisation of assisted suicide would lead to abuses and put the weakest in society at peril.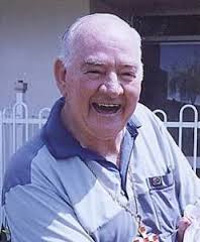 Bishop Ted continued with his public battle against the legalisation of euthanasia after the Act was passed by the NT Parliament and almost certainly contributed to the Federal Government's decision to step in and overturn the Territory's controversial law 18 months later.
"Euthanasia is murder and you cannot legalise murder," the Bishop insisted. "I have sympathy for people in pain but it is not the way out. God will take you when he wants to."
The youngest of five children of an Irish Catholic family, Bishop Ted was born in Braidwood, NSW and grew up in Bermagui, NSW on the South Coast where he was active in local sports. He was a keen surfer, cricketer and golfer as well as being a keen rugby player and follower of Aussie Rules.
Just five years old when his mother died suddenly from a stroke, Bishop Ted was brought up by his father, a mounted policeman in country NSW. At 16 when he left school, he followed in his Dad's footsteps and moving to Sydney, joined the Police cadets. Attached to the wireless room, he worked there for 10 months before being sent to Campsie Police Station where he worked behind a desk learning the ropes from the Station Sergeant.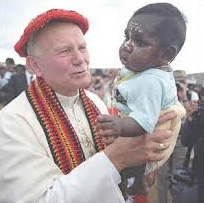 He was later transferred to the Scientific Bureau and then Petersham Police Station before joining the Vice Squad at the CIB. Finally at age 19 he was promoted from the Cadets and appointed to the Clarence Street Police Station. For the next several years he worked at various police stations across Sydney, was a member of the Police Rugby Team and played cricket with the Number 1 team.
Then in 1953, shortly before his 23rd birthday, he joined a group of Catholic police for a Day of Recollection at Kensington Monastery. The priest in charge was Father Eddie Kelly msc and talking with Fr Eddie, Bishop Ted felt drawn to the priesthood.
Over the next 18 months the call to the priesthood became even stronger and in later years he liked to quip that "the call" was like "indigestion - it kept coming back."
Finally at age 24, he quit his job as a policeman and joined the Missionaries of the Sacred Heart. Two years later he took his first vows and was sent to Croydon Monastery in Melbourne where he studied for the priesthood over the next seven years.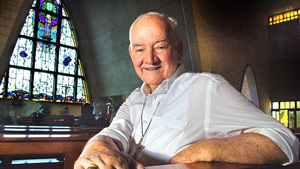 He was ordained a priest in July 1963 by Cardinal Normal Gilroy at St Mary's Cathedral, Sydney and appointed to Randwick Parish. He spent four years there before being sent to Hindmarsh Parish in South Australia and Nightcliff Parish in Darwin. Later he was elected Superior of the Missionaries of the Sacred Heart in the Northern Territory and appointed Episcopal Vicar for Missions for the Diocese of Darwin.
Bishop Ted remembered this period of his life vividly, particularly Christmas Eve 1974 when Cyclone Tracy destroyed Darwin, killing 71 people and devastating the city. When the Cyclone hit he was attending Midnight Mass at St Mary's Cathedral in Darwin.
"We'd been told the cyclone would hit at 6 am on Christmas morning but it struck at 11.30 pm and was the most terrifying experience of my life," he said later. "I will never forget the roar of the wind, the lights going out and windows smashing and glass everywhere. It was a devastating time...many lives were lost and people's homes totally destroyed. I didn't get any sleep that night and I said a few decades of the rosary!"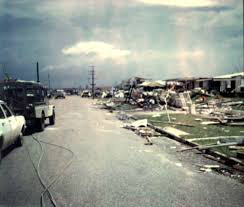 As Cyclone Tracy hit, Bishop Ted had the presence of mind to turn on his tape recorder. But amid the mayhem that followed, he completely forgot about it and it was only after the Cyclone passed he realised he had a live recording of one of biggest events in Australian history.
The tape is now in the NT Museum and Art Gallery in Darwin, a prominent part of the exhibit on Cyclone Tracy.
In the wake of Cyclone Tracy, Fr Collins as he was then known, undertook the building of a mission house for the priests and brothers at Nightcliff for those who have given their lives to ministry in remote communities in the Territory.
Bishop Eugene Hurley, the sixth Bishop of Darwin is expected to confirm the time and date of the Requiem Mass for Bishop Ted at the city's Cathedral later today.
Shared from Archdiocese of Sydney