Interfaith Prayer Service for Victims of Violence
Catholic Communications, Sydney Archdiocese,
19 Dec 2014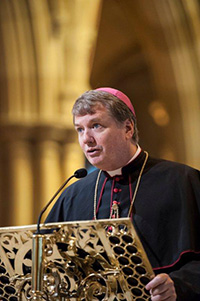 Leaders of many different faiths came together today to remember, reflect and pray for the victims who died in the Martin Place siege, their families and all the hostages taken during the ordeal.
They also remembered victims of violence and terror in many other parts of the world.
Side by side in St Mary's Cathedral Muslims sat with Buddhists, Jews, Hindus, Sikhs and Christians.
It was a powerful testimony to peace and harmony and the rejection of violent events like the siege in Martin Place this week which claimed the lives of two hostages, Katrina Dawson and Tori Johnson, and the horrific killings of nearly 150 students and staff at a school in Pakistan by terrorists.
Archbishop Anthony Fisher welcomed the various faith leaders, their followers, and around 300 other people of all faiths and even no faith to the Service.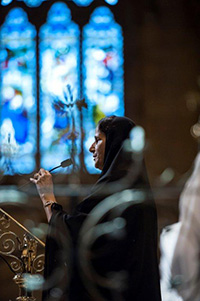 Five leaders initially offered reflections - Brian White, the Chairperson of the Buddhist Council of NSW; Jeremy Spinak, President of the NSW Jewish Board of Deputies; Prof Nihal Singh Agar, of the Hindu Council of Australia; and Dr Basim Alansari, representing the Office of Ayatollah Al-Ansari/Shia Islam.
The Grand Muft of Australia, Dr Ibraham Abu Mohammad then addressed the gathering.
"On behalf of Australia's Muslims I stand before you first and foremost in trust and heartfelt sorrow for the families of the two victims and the recovery of their families," he said.
The Grand Mufti said he prayed for the healing of their wounds and his and the Muslim community's thoughts and prayers go out to the 17 hostages who endured such a horrendous ordeal.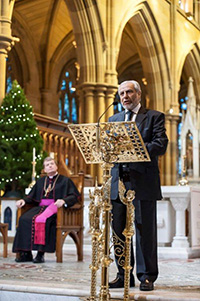 "I want to convey in public as well as in private gatherings that Australian society is one big family and will always remain a beacon of liberty, security and an oasis of multi-culturalism," the Grand Mufti said, adding that Australia would continue to stand united against crimes committed against innocent civilians.
"The tragic events of this week increase our unity and I am confident that as Australians we will rise above our wounds and exercise life as normal, and not allow anyone toi separate the bonds of love and harmony; and that we will always stand tall together."
Archbishop Fisher said;" So all of us reflecting together today know the importance of peace. It is at the heart of our faiths. We pray today for eternal peace with God for those who have died. For Katrina Dawson and Tori Johnson. And after a time of disturbance in our city we want to give common witness to our belief that genuine religion promotes peace, not division. We join together in repudiating hatred and violence. We salute and pray for each other the Peace of God which is beyond all understanding.And we affirm in common: God, the Holy, the Divine, the All Powerful, the All Merciful, wants peace.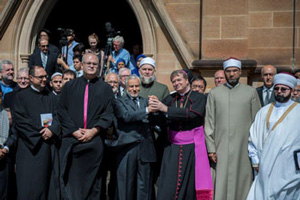 "Christians believe the Prince of Peace came as a babe born in a manger at Christmas time. It is my prayer that His peace may shine on our heart-broken city this Christmas. May God's peace be with you all and with all Sydneysiders."
During the Service there was a period of silence for reflection and everyone was invited to pray according to their own traditions.
Then representatives from different faiths were invited to light a candle as the Cathedral bell tolled.
The Service concluded with the Australian National Anthem and a prayer for peace from Archbishop Anthony.
All the religious leaders were aware of the strong message their presence together sent to the community in a week when violence and death had so deeply touched the people of Sydney.ok