Irish Sister Died Trying to Save Young Girls in Ecuador Earthquake - Aid Agencies Struggle to Deal with Devastation
Catholic Communications, Sydney Archdiocese,
20 Apr 2016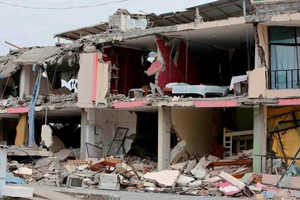 Aid agencies are calling for more assistance as Ecuador struggles to deal with the devastating earthquake which killed nearly 500 people, injured around 4,000 and left many thousands homeless last weekend.
Rescuers are still searching through rubble for survivors of the 7.8 magnitude earthquake although they believe there is little hope of finding many of those still missing. The government and aid agencies expect the death toll to rise as the devastation is slowly cleared.
It was the country's most powerful quake in decades, which hit the Pacific coastline. Numerous high intensity after shocks also hit the area.
The hardiest-hit area was the coastal Manabi province and the cities of Manta, :Portoviejo and Pedernales which is a tourist destination.
Apart from homes, hotels, shopping malls, bridges and roadways buckled and collapsed.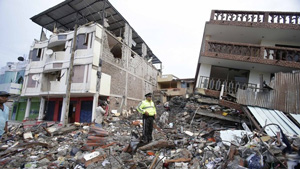 A religious sister, one of the Servant Sisters of the Home of the Mother, Sr Clare Maria, 33 lost her life in Playa Prieta where she worked in a school.
Sr Clare and another Irish nun had been teaching guitar and singing when five young postulants, who were entering the religious order, when the earthquake struck. Sr Clare was trying to get the young girls to safety down a staircase. Despite her quick efforts the stairway began to collapse when the quake hit. The building collapsed on top of them.
Family and friends in Derry, Ireland said Sr Clare was very much a fun loving girl who loved karaoke. However at just 17, during a trip to the order's headquarters in Spain, she said; "I could become really famous and rich, or I could stay here and pray to God that I made the right decision".
Sr Clare stayed and more recently found herself in Ecuador working at a school teaching 400 children from the local area.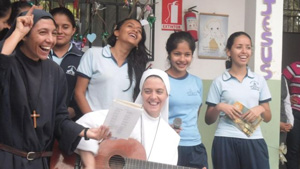 Makeshift hospitals and morgues have been set up around the country while international aid and equipment is still arriving.
There are long queues for essential supplies such as bottled water, food and blankets.
Reconstruction costs are expected to be huge - when they eventually begin.
There are a number of aid organisations contributing to the Ecuador earthquake relief. However if you would like to know more about Sr Clare's order and the Missionary Groups of the Home of the Mother who are coming together to help the Sisters in the devastated area where Sr Clare was based, to by food, medicine, mattresses and goods for families in the area click here
Shared from Archdiocese of Sydney