ARCHDIOCESE OF SYDNEY REPORT:
Catholic Communications, Sydney Archdiocese,
24 May 2012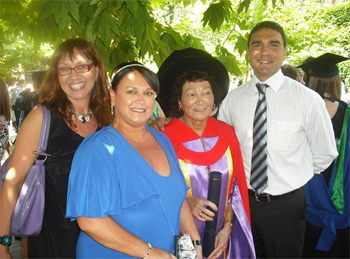 Youngsters from three primary schools across Malabar, La Perouse and Matraville have spent the past few weeks creating large red, black and yellow hands to be hung throughout the small garden surrounding the Archdiocese of Sydney's Reconciliation Church at La Perouse.
This "sea of hands" will be one of the central features of the Sorry Day Commemoration Ecumenical Service to be held at the little church on Saturday, 26 May.
Although La Perouse's historic church has supported small services on Sorry Day over the past few years, 2012 marks the first time the city's Aboriginal community has joined together and as respected elder and Executive Officer of the Archdiocese's Aboriginal Catholic Ministry , Dr Elsie Heiss puts it: "organised and taken ownership of the day."
"Every service and Mass we hold represents a further step towards healing and reconciliation. But on Sorry Day this year we are taking this much further and with funding assistance from the Archdiocese, we are reaching out to the community and inviting everyone whether Aboriginal or non Aboriginal to join in what will be a deeply-felt Aboriginal grass roots ecumenical service," she says.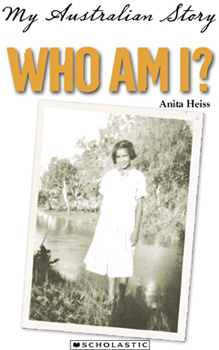 As part of this reaching out, students from Malabar's St Andrew's Catholic Primary School, Matraville's Soldiers Settlement School and La Perouse Public School have not only responded enthusiastically but are currently putting the finishing touches to the "Sea of Hands" they have created, replicating the powerful symbol created in 1997 to represent reconciliation between Australia's Indigenous and non-Indigenous people.
In addition to making large hands in the symbolic Indigenous colours of yellow, red and black, the youngsters are also learning about the true meaning of Sorry Day, and what happened over a period of more than 100 years to Aboriginal and Torres Strait Islander children who were forcibly removed from their parents, siblings and extended families to grow up alone, terrified and bewildered in federal and state-run orphanages and mission stations.
Four years ago, on 13 February 2008, then Prime Minister Kevin Rudd made history when he apologised on behalf of the Federal Government for its involvement in what are now known as "the Stolen Generations."
Although the custom of removing children from Aboriginal and Torres Strait Islanders began in 1869, it wasn't until 1997 that the full extent of what had happened to generation after generation of Indigenous children finally became known with the release of the Government's "Bringing Them Home: the Stolen Children Report." Made public on 26 May, the day became known as "Sorry Day" and is commemorated each year by both Indigenous and non Indigenous Australians.
As part of Sorry Day, ceremonies are held across Australia to remember and pay tribute to the many thousands of children who suffered after being taken from their families and made wards of the state in the misguided belief of Colonial times that involved fear of inter-racial marriage, and later the idea these children were somehow being protected despite the fact they were taken with no evidence of neglect or that they were at risk in anyway.
Although they are often dubbed children of the Stolen Generations, Elsie says this is not a term used by Indigenous people. Nor was it used by her own mother and aunt who were just five and four years old when they were separated from one another as well as from their parents and other siblings and forced to grow up alone and far from everyone they knew and loved.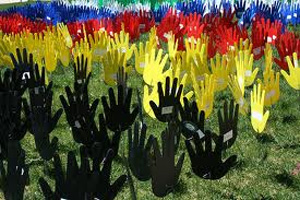 "My mother and aunt always referred to themselves as the 'taken away' kids. That's how the generations were known. The word stolen is never used," Elsie says.
Although her mother and her aunt were members of the "taken away children," to Elsie and their other children, they kept the pain, terror and often brutal treatment received during their childhood to themselves.
"They told us the good bits and left out the other stuff. The bad things, my mother took with her to the grave and I only found out about them many years later," she says.
Much of what Elsie discovered came from the meticulous research through ill-kept and forgotten documents handed down from state and federal aboriginal welfare agencies, carried out by her daughter, Dr Anita Heiss. Internationally acclaimed poet, writer and social commentator, Anita is the author of "Who Am I: The Diary of Mary Talence" which pieces together the story of her grandmother and Elsie's mother.
Taken from her parents to the Bomaderry Aboriginal Children's Home aged 5, Mary found herself five years later living in Sydney with a white family, confused and bewildered and wondering why she didn't fit in.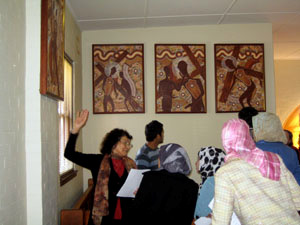 But until the Government's "Bringing them Home" report of 1997, Elsie says she had not realised the scale and enormity of what had been done to her mother and to so many thousands of other children like her.
Today a mother of five and grandmother to eight, Elsie says the experiences endured by the "taken away children" have left scars on the following generations and great pain. But she says the most powerful legacy of all from her mother's experience, is the realisation of just how important family is and how vital it is to hold those you love close, and constantly protect and treasure each one.
"I tell my kids and grandkids that family unity is precious, and that staying close to one another and being there for one another in good times and bad is very important and they must not forget this. I think of my own mother growing up without her family, and each night when I pray to the Virgin Mary one of my prayers is to bless my children and grandchildren with health and strength and love."
For Elsie and so many others, Sorry Day is an emotional time, but it is also a positive one that offers real reconciliation, healing and positive looking ahead to the future.

"The little booklet we've printed for Sorry Day 2012 includes a prayer giving thanks to the Lord and acknowledges that while we 'embrace the past, we are alive in the present and have hope in the future.'"
The Sorry Day commemoration at the Reconciliation Church, La Perouse will also include music by Indigenous singer songwriter, Archie Roach and his moving "They Took the Children Away," followed by St Therese's beautiful "Come Holy Spirit" and US country gospel's Charley Pride singing "All God's Children." The final song will have everyone present joining in to sing the joyous "Holy Spirit of this Land", its powerful words summing up Australia with "from the red earth pindan to the deep blue seas, Holy Spirit of this land."
"We want the Sorry Day commemoration to end on a happy and hopeful note," says Elsie.
More than 250 are expected at the Reconciliation Church which begins at 11.a.m and where those unable to fit inside the tiny church will spill out into a garden among the brightly coloured "Sea of Hands."