Catholic Communications, Sydney Archdiocese,
28 Nov 2012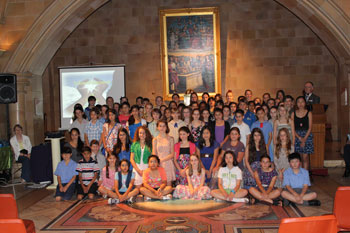 Judging winners and runners up from among more than 1000 artworks created by Year 5 and Year 6 Catholic school students for the Archdiocese of Sydney's annual children's Christmas Story Art Exhibition was no easy task, says John Charadia, Creative Arts Advisor with the Catholic Education Office (CEO).
"Once we would have had about a dozen real standouts among the 90 paintings and artworks chosen to be part of The Christmas Story Exhibition in the Crypt. But this year each one in the exhibition is a standout," he says.
This year's entries included impressively imagined and well executed artworks using charcoal or acrylics on canvas. Some children showed off their artistic talents with water colours, pastels or coloured pencils while others tried their hand with oils or created rich collage tapestries.
"Because the standard overall is now so high, we introduced a new criteria this year which is possibly best summed up as 'balance'.
"While it is hard to define exactly what this is in words, but both symmetry and asymmetry are key along with the way the child uses his or her imagination, the depth and skill of illustration and the visual impact of the work," John says.
For the judges other equally important criteria include the title chosen for the artwork along with the student's accompanying personal reflection and description of the work and what it means. Although brief, this is a way for the judges to chart the young artist's insight and understanding of their faith, the Scriptures and the true meaning of Christmas.
"As with the artworks, some of these written explanations were outstanding. In fact some were inspiring and so beautiful, they read like prayers," says John who says the children's Christmas Story Exhibition and Competition continues surprise and delight him.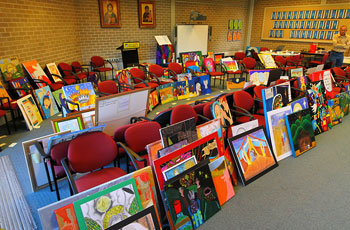 For the past 10 days, John and fellow judges: artist-teacher and veteran of Sydney's annual Archibald Prize, Les Quick of James Sheehan Catholic High School, Orange; artist-tutor Amanda McPaul-Browne; and Wanda Grein of the Anise Art Consultancy have been surrounded by entries for this year's exhibition and deciding not only on the winners and runners up, but those that deserve highly commended stickers.
They have also had the almost impossible task of choosing just 93 artworks from more than 1000 entries received.
"Each year it seems to become more and more difficult," John says but admits he and the other three judges were all were tremendously excited by the calibre and overall standard of this year's entries both in terms of art and creativity as well as in written expression.
Entries from Year 5 students and Year 6 students are divided into separate categories with each having its own winner, runner up and third-place getter. Each of the two winners receives $400 in high quality art supplies and a lavishly illustrated book on faith and art. The runners up receive $200 of top quality art supplies with third place getters receiving $100 in supplies.
In addition to these awards, there are also three special trophies for the Year 5 and Year 6 budding artists. One is the Spirit of Christmas Award sponsored and judged by Sally McDowell, a leading graphic designer and artist. The second is the Executive Director's Acquisitive Award which is chosen by CEO's Director of Schools, Dr Dan White. The artwork of whichever youngster is awarded this important trophy is "acquired" and for the next five years will be part of the CEO's art collection and on display at the CEO's Lidcombe offices.
The third and most coveted award of all and open to all entrants is the Cardinal's Choice Trophy.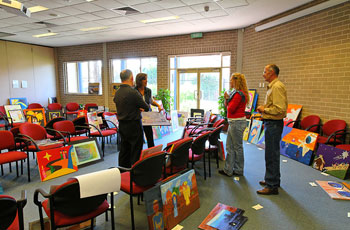 Well-known for his love and knowledge of art, the annual Christmas Story Exhibition was the brainchild of the Archbishop of Sydney, Cardinal George Pell as a way to encourage Catholic youngsters to celebrate Christmas and their faith using their visual as well as written skills.
As he does each year, His Eminence personally decides which entry should receive the Cardinal's Choice Trophy and for several weeks before the Exhibition opens at the St Mary's Cathedral's Crypt on the first Sunday in Advent, he has a selection of the children's artworks displayed at Cathedral House. This way he has time to carefully study and assess each one before making his choice.
Open to students at Catholic schools across the Archdiocese of Sydney, the Diocese of Bathurst, the Diocese of Broken Bay and the Diocese of Wollongong, as well as to youngsters in Year 5 and Year 6 Catholic Religious Education Classes at public schools, the Christmas Story Exhibition has become a much-loved tradition.
Trophy winners, finalists, those who are highly commended and all 93 of the artworks that will be on display at the Crypt at St Mary's Cathedral will be announced on Sunday, 2 December, the first day of Advent. This is when every child, their parents, family and friends will gather in the Crypt for the official opening of the exhibition which runs each year from the first Sunday in Advent until Epiphany or Sunday 6 January 2013.
"We believe every child is a winner and on Sunday every child whose artwork is hanging in the Crypt will receive a special certificate signed by His Eminence Cardinal Pell and Dr Dan White," John says.