Catholic Communications, Sydney Archdiocese,
19 Jul 2013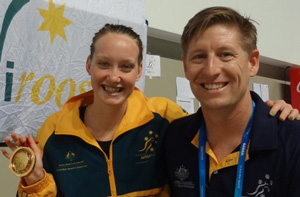 At 19 years old Madison Wilson has not only won the Australian Catholic University its first ever gold medal for swimming at the World University Games at the Universiade in Kazan, Russia but is tipped to represent Australia at the Commonwealth Games in Glasgow next year and at the 2016 Olympics in Rio.
A student at ACU where she is studying for a Bachelor of Education, Madison not only took out the 200 m women's backstroke event against all comers to win her first international gold crown, but she won the race with a personal best time of 2:09.22.
For a swimmer who hopes to eventually become a teacher of early childhood and primary school children, the race time she achieved at the games sliced a number of all-important secnds from her previous best time of 2:13.20 achieved in 2012.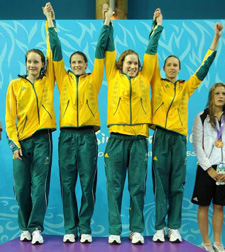 But Madison didn't stop there. She also took home bronze medals in both the 100m and 50 m women's backstroke events at the games held over the past week in Kazan, Russia.
No stranger to international competition, Madison was just 11 years old when she competed internationally for the first time at the Pacific School Games which were held in Melbourne in 2005.
Training at Queensland's famous St Peters Western Swimming Club, which has trained many star swimmers including golden girl, Stephanie Rice, by 2010 Madison was representing Australia. She was a member of the winning women's relay team at the Summer Youth Olympics in Singapore.
But it wasn't only medals and winning events at international sporting competitions but her courage that has made Madison such a standout.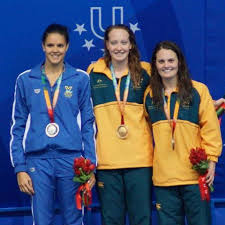 As an adolescent she broke an arm in several places after falling into an empty swimming pool. The recovery was difficult and painful but with typical determination as soon as the doctors gave their okay, she was back in training.
Her hero and role model is Susie O'Neill and next year it won't only be the university barracking for her, but the entire nation when she is expected to be one of the hot favourites for gold at the Commonwealth Games in Glasgow.
Of the two other students who represented ACU at the Universiade in Kazan, Russia, Bachelor of Nursing undergraduate Amanda Holt finished 18th in the trap shooting while Keiran Qaium, who is studying for a Bachelor of Physiotherapy at ACU's North Sydney campus, made it to the semi finals of the men's 200 m butterfly.
SHARED FROM ARCHDIOCESE OF SYDNEY