Sydney Archdiocese report
19 Jul 2011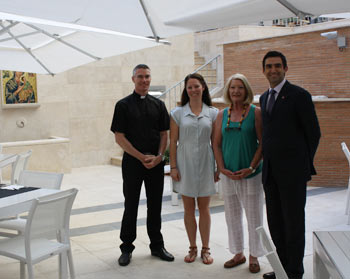 The Australian pilgrim centre in Rome, Domus Australia, is open for business and has received its first guests.
Mother and daughter, Kristy and Suzanne Marie Stewart from Adelaide, Australia travelling to Italy were welcomed in Rome by the Domus General Manager, Gabriel Griffa and Rector, Fr Anthony Denton.
"Everything looks so beautiful and brand new - it is very comfortable and something of which Australia can be very proud," Mrs Stewart said.
Mother and daughter enjoyed a "good, hearty, Aussie breakfast" in the courtyard on the first morning before heading off to explore the Eternal City - with all the advice and recommendations of Fr Denton.
They were planning to return for Mass with Fr Denton in the magnificently restored Chapel of St Peter Chanel. This will be one very special feature of Domus, daily Mass in English.
Located at Via Cernaia, not far from Termini, the main railway station, Domus is a former student house of the Marist Fathers.
In December 2008, a group of Australian dioceses, led by the Archdiocese of Sydney and Cardinal George Pell, bought the building to establish a new pilgrim house for visitors to Rome.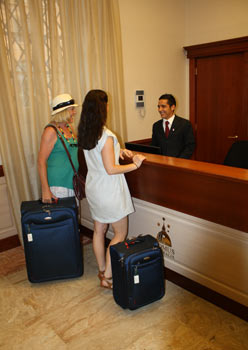 Cardinal Pell has often said a key aim in establishing the centre is to help tourists become pilgrims and is keen to welcome all Australian Catholics to Rome.
It also provides the opportunity to strengthen the link between the Catholic Church in Rome and the Catholic Church in Australia.
The creation of Domus Australia has also been welcomed by Pope Benedict XVI.
The complex comprises four main blocks surrounding a central internal courtyard. It is a quiet and peaceful refuge from the busy tourist sites but not that long ago it wasn't so quiet.
The site has undergone massive restoration and renovation works Hard to imagine what is seen now was once covered in scaffolding, trucks, bulldozers and dirt.
During this work sections of a wall and flooring dating back to the 1st century was uncovered. This is now preserved and on display for visitors.
Domus can accommodate around 80 people in the 32 rooms which have their own ensuite bathroom, mini-bar, air-conditioning, heating, television and in fact all the extras you would expect in a hotel.
There is also a lounge room and bar, dining area and a rooftop terrace for an Aussie barbeque and beer.
A conference area will accommodate around 150 people and of course there are special facilities for people with disabilities.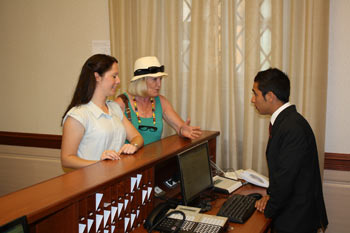 Cardinal Pell has been guiding the renovations and restoration from day one as well as the delicate restoration of the artworks.
Other artworks of leading Catholic Australian figures will be hung around Domus with Sydney artist Paul Newton commissioned to complete 32 paintings.
Some of his works including a new Our Lady of the Southern Cross and also a portrait of St Mary of the Cross MacKillop have already been shipped to Rome.
So from the first guests? It ticks all the boxes, according to the mother and daughter.
For further information www.domusaustralia.org