Catholic Communications, Sydney Archdiocese,
23 Apr 2013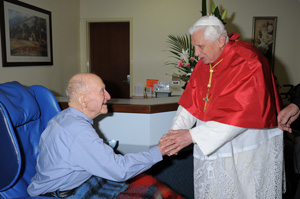 The funeral for Bishop Emeritus William Edward Murray will be held at 11 am next Wednesday, 1 May at St Francis Xavier's Cathedral in Wollongong following his death last Sunday afternoon at the Little Sisters of the Poor Nursing Home at Randwick.
He was 93 years old and presided as Bishop at the Wollongong Cathedral from 1975 to 1996.
Paying tribute to late Bishop Murray, Wollongong's current Bishop, the Most Rev Peter Ingham described his predecessor as a "dedicated priest" who served the Wollongong Diocese for just over 22 years.
The period during which Bishop Murray presided over the Wollongong Diocese was one of "great change and development for the Church," Bishop Ingham said adding Bishop Murray's vision and foresight were responsible for making provisions for the vast expanding Macarthur areas by establishing parishes throughout the region to meet the growing needs of the community.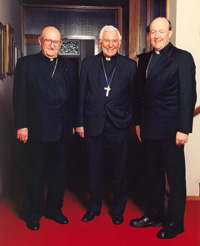 Bishop Ingham also recalled Bishop Murray's sharp sense of humour and his selfless dedication to caring for the people of the Wollongong Diocese.
"His final years were difficult for him after he suffered a stroke which crippled his body and impaired his ability to speak," Bishop Ingham says.
Born on 16 February, 1920 the late prelate grew up in Sydney's Leichardt and after attending De La Salle College in Marrickville, entered St Columba's Seminary at Springwood.
Ordained by Cardinal Norman Gilroy on 21 July, 1945 at St Mary's Cathedral, Sydney, he was appointed as assistant and then parish priest at churches across the Sydney Archdiocese. During this period he studied at the University of Sydney where he was awarded a Doctorate in Social Science. He continued his studies at the Gregorian University in Rome where he was awarded a Doctorate in International Law.
On 5 June 1975, almost exactly 30 years after his ordination, he was appointed Bishop of Wollongong nearly 30 years later by Cardinal James Freeman.
As Bishop he was much loved and admired for his dedication, compassion and pastoral care. In 1988 he was awarded an Order of Australia.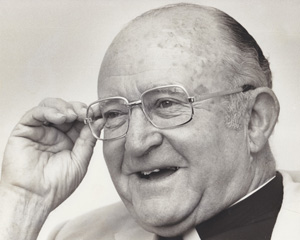 "On behalf of the Australian bishops, I recognise the generous pastoral service of Bishop William Murray in Wollongong as a priest of 37 years and as Bishop of Wollongong for more than 20 years," Archbishop Denis Hart, President of the Australian Catholic Bishops conference said last night. "We remember him with affection and prayer."
SHARED FROM ARCHDIOCESE OF SYDNEY