Catholic Communications, Sydney Archdiocese,
16 Sep 2013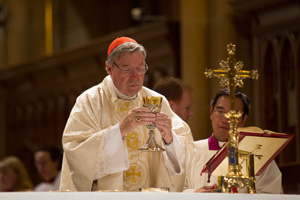 Eighty two candles symbolising the 82 lives lost to abortion each day across New South Wales were carried in solemn procession to commemorate lives lost to abortion at the annual Memorial Mass for the Unborn which was held at St Mary's Cathedral on Friday, 13 September.
Almost 1000 gathered for this very special Mass which was celebrated by the Archbishop of Sydney, Cardinal George Pell and priests from the Archdiocese.
"Each candle represents one tragic story drawn from an all too often indifferent and uncaring society in which a woman's capacity to bear life is seen as a problem and a burden. But the light that will burn for these children is also a sign of the eternal light of God's mercy that will shine on them," His Eminence told those present when he delivered his homily.
An initiative of Cardinal Pell, the Memorial Mass for the Unborn was inspired by the Requiem Mass for the Unborn held each year by the Los Angeles Archdiocese. Invited to concelebrate the Requiem Mass for the Unborn by the Archbishop of Los Angeles, the Most Rev Jose Gomez in January 2011, Cardinal Pell recognised the need for a similar Memorial Mass for the Unborn here in Australia.
Sydney's inaugural Memorial Mass for the Unborn was held at St Mary's Cathedral on September 14 2012 when more than 700 joined in solidarity to commemorate the tragic loss of life through abortion and to give those whose lives have been affected by abortion an opportunity to grieve and to heal.
This year even more people attended the Memorial Mass for the Unborn.
"This year's Mass was a very beautiful, solemn and respectful ceremony which I hope brought as much solace and comfort to others as it brought me," one first time attendee said as she watched the 82 lighted candles carried from the Cathedral and placed outside on the Western steps.
The candles were arranged to form a cross which continued to shine throughout the night as a poignant public memorial to the unborn and all those who had lost their lives as the result of abortion.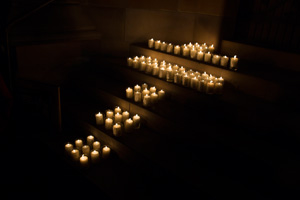 "Every life matters," says Chris Meney, Director of the Archdiocese of Sydney's Life, Marriage and Family Centre which organised Friday's Memorial Mass for the Unborn and firmly believes as a society we need to do more to support vulnerable women in challenging circumstances.
"Given the nature of abortion and its terrible effects on so many, the government needs to be pro-active in finding out the reasons why so many mothers feel compelled to choose abortion and the termination of a precious new life as their only option," he says.
Support for women during pregnancy can be found at Pregnancy Help Australia on 1800 792 798 or at www.pregnancysupport.com.au
Post-abortion healing is available through the confidential healing ministry, Rachel's Vineyard. To contact Rachel's Vineyard call 0400 092 555 or go to www.rachelsvineyard.org.
Shared from Archdiocese of Sydney