Sydney Archdiocese REPORT:
9 Sep 2011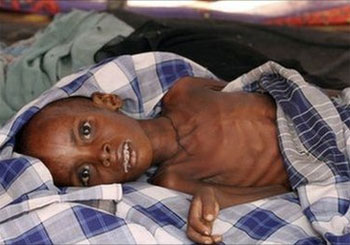 Sydney-born Franciscan missionary, Sister Maureen Elliott began working in Ethiopia back in 1995 and knows firsthand the ongoing problem of malnutrition and the terrible toll the current drought is taking on the people not only of Ethiopia but across the Horn of Africa.
More than 29,000 children have already died of starvation and malnutrition in the worst crisis of hunger the world has seen this century and thousands are more expected to die over the next few months.
It is estimated that 12.5 million men, women and children now at risk and in urgent need of humanitarian aid in Ethiopia, Somalia, Eritrea, Djibouti, Southern Sudan and northern Kenya.
Each day hundreds of thousands battle to survive as weak but determined they walk hundreds of kilometres in blazing hit, fleeing civil war, trigger-happy Al Qaeda-inspired militias and a drought that has destroyed crops, stock and livelihoods, to try and reach the ever-expanding refugee camps near the borders of Ethiopia and Kenya or Kenya and Somalia.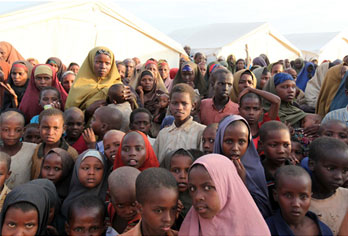 In Somalia more than half the population is now in crisis with at least five children per 10,000 dying each day. These terrible statistics however are quickly becoming the norm for those in nearby nations as the toll continues to rise and aid workers battle to cope.
This week, in addition to declaring six regions of Somalia under famine, large areas of southern Ethiopia were also listed as under famine by the United Nations.
The definition of famine for the UN is for at least 20% of a population experiencing acute food shortages and at least one in three of that population suffering malnutrition and malnourishment with two or more deaths per 10,000 being recorded each day.
"The view on the ground is heartbreaking," says Sister Maureen. "So much is still needed on the healthcare and medical side, as well as food, water and shelter."
Although many of the world's governments have responded to the plight of the millions in dire need across the Horn of Africa, the amounts pledged have fallen far short of the $2.3 billion needed.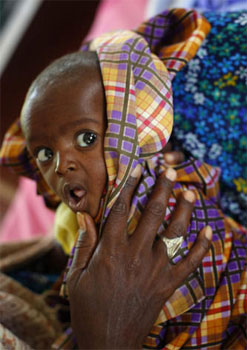 "We really need direct help," says Sister Maureen and in a bid to raise desperately needed funds to help the Dhaddiim Health Clinic Centre in the midst of the famine declared area that borders Somalia and North Western Kenya she has made a personal appeal via video.
The video, which can be seen on Catholic Mission Australia's website, gives a very personal, powerful and vivid account of the tragedy that continues to unfold across Africa.
"As a little girl I remember my mother telling me to eat everything on my plate because children in other parts of the world were starving. I couldn't understand why I couldn't give whatever I was eating to the starving children and I remember lying awake at night and crying for children who didn't have enough to eat," she says.

Now though, Sister Maureen understands the plight of a huge proportion of the world's population who even where there is no drought, face hunger and malnourishment.
From the time she first began working at the Busholo Health Centre in Hawassa Vicariate in Ethiopia, before the failure of the rains and the subsequent drought we see today, Sister Maureen says almost all the cases treated were almost all due to malnourishment and malnutrition.
"Even the eye diseases in children were due to malnutrition," she says. "Most health problems are a result of lack of nourishment."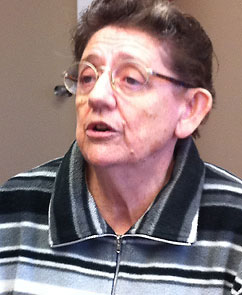 "We need a long term solution to malnutrition which affects countries across the Horn of Africa, she says and admits she is frustrated the problem of malnutrition over the longterm is not being addressed.
But her main energies at present are with those in desperate need.
While t he Dhaddiim Health Clinic concentrates on feeding programs for malnourished nursing mothers and treats 28,500, it now finds itself in the centre of the famine area, with more than 54,000 needing medical, health and nourishment at the nearby refugee camp.
"I am making this video appeal to resupply the Dhaddiim clinic and will make sure all donations received by Catholic Mission directly go to help this important cause," she says.
Catholic Mission Australia's director, Martin Tuelan says Sister Maureen's personal appeal via video which is posted on the Mission's websitehttp://www.catholicmission.org.au/media_releases.asp?id=302 and has received more hits than any other and in just a few short weeks has made a difference in the number of donations now coming in to help the Ethiopian clinic and the starving millions across the Horn of Africa.
"Hearing an Australian voice describe the situation has had a very powerful effect and we believe Sister Maureen's appeal for funds has had a significant effect," he says.
http://www.sydney.catholic.org.au/news/latest_news/2011/201199_1518.shtml