ARCHDIOCESE OF SYDNEY REPORT:
Catholic Communications, Sydney Archdiocese,
11 May 2012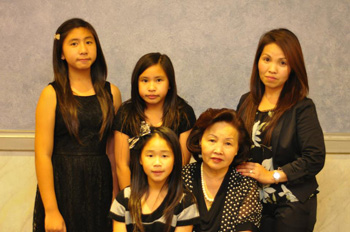 When it comes to motherhood, Cabramatta's Vietnamese-born, Hien Thi Vo is a standout. Not only has she brought up four sons and two daughters as well as help raise her seven lively grandchildren, but from the age of 10, she was "mother" to her younger brothers and sisters. By the time she was 20, Hien had played "mother" to 14 of her siblings.
"I cannot find the words to express the gratitude, love and respect I have for my mother," says Hien's second eldest daughter, Thuy Lieu Tran, affectionately known as "Lieu" to her family and friends. "Her love for us has never failed, and it was through her love, sacrifice and the courage of both my parents that we were able to flee Vietnam and eventually find safety here in Australia."
On Sunday, 13 May when families across the country will gather to celebrate Mother's Day, at Lieu's parents' home in Cabramatta, there will be an extra special celebration to honour 63-year-old Hien and pay tribute to her for her love, warmth, gentle humour and unfailing support in good times and bad.
"On the morning of Mother's Day we always go to Mass together to dedicate our family to Mary, the Mother of God, and to give thanks for our good fortune and our lives here in Australia," Lieu says.
As they do most Sundays, the family will celebrate Mass at Cabramatta's Sacred Heart Church where Lieu's brother and Hien's second youngest son is Assistant Parish Priest, Father Liem Duong.
"Later on Mother's Day we will share a special dinner with my mother and father, and our paternal grandmother, Vo Thi Tam. Sometimes we hold our Mother's Day dinner at a restaurant but usually it is at my parents' house, where everyone is relaxed, full of laughter and where we all pitch in to help."
Now a mother herself and married for just over 15 years, Lieu has three daughters aged 13, 12 and 11 and a 10-year-old son.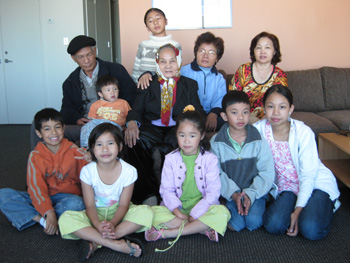 "My husband and I have a tiling business and start work early, and finish late. So my father picks my kids up after school each day and my mother looks after them until I arrive to collect them at around 7 pm. By the time I get there, she's bathed them and they've even done their homework! She will have cooked meals for us as well. She is amazing and so filled with love. For her, nothing is too much trouble and she does this for my sister's children and my brothers as well."
With six children and seven grandchildren, Hien is used to the typical arguments and spats that can break out between siblings. But when this occurs, she steps in and gently points out within a family, no matter what the squabbling is about, "there is no such thing as a winner or a loser, only a failure of love."
These days, while Hien's grandchildren may have the odd squabbles, Lieu says upsets between herself, her sister and four brothers are extremely rare.
"We were separated for many years during our flight from Vietnam. That time apart was very difficult and made us appreciate one another even more. It brought us even closer together and today we live within five minutes of each other and get together as a family every chance we get."
Seemingly ageless, serene, elegant, with a warm smile and gentle manner, it is difficult to believe Lieu's mother has endured war, terror, poverty as well as a forced separation over several years from her husband and three of her children. She has also had to endure the pain of leaving her own beloved parents and many brothers and sisters behind when she fled her homeland in a bid to ensure the safety of her children.
Arriving here Australia in middle age, she was faced with the challenge of adapting herself to a whole new way of life in a land with a completely different culture and language.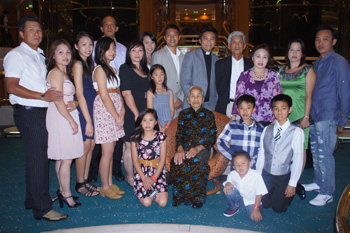 But from an early age, Hien has had courage, determination and great strength of will.
Born the second eldest of 16 children, under Vietnamese tradition her elder sister received a full education while Hien was the daughter chosen to remain at home to help raise her younger siblings and to work in the rice fields and on the family farm.
Her family were Buddhist, but at 20 when she met and married Duong Van So, she converted to Catholicism.
"My father's family are Catholic and like my mother, he came from a large family. He had 11 brothers and sisters and when Huyen, my sister who is the eldest, arrived, both my grandmothers were also giving birth," Lieu says smiling. She adds that her paternal grandmother, Vo Thi Tam came to live with her parents in Australia after her grandfather died and now at 88, has 90 grandchildren including several who are great or great great grandchildren.
While no one else in Hien's large Buddhist family became Catholic, there was no conflict about her decision to convert. In fact according to Lieu, Hien's family were inspired in many ways by her new faith and the way in which Catholics live and carry their faith.
For the new mother and her young husband, living through the Vietnam War was difficult enough. But times became even more difficult after the fall of Saigon and pullout of American and Australian troops in 1975. This was when North Vietnam's communist government in Hanoi asserted its authority. Almost immediately basic human rights such as freedom of speech, freedom of religion and freedom from persecution and torture disappeared. With basic infrastructure destroyed during the war, life for South Vietnamese Hien and her family was hard and tenuous. Food was at a premium, hunger common and life generally both frightening and uncertain.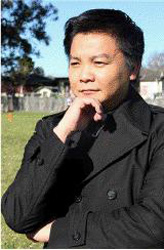 Finally in April 1987, Hien's husband, Duong Van So, who owned his own bus and supported his family ferrying passengers to towns and villages across the South, decided the only chance of a future was to joined the hundreds of thousands of other South Vietnamese fleeing his homeland in search of a better and safer life for his wife and children.
Taking his youngest son with him, he spent almost a year in an overcrowded refugee camp in Indonesia. But finally in December almost 10 months later, he received permission to settle in Australia.
Settling in Fairfield, near relatives who had also managed to escape South Vietnam, his immediate priority was to arrange visas so his wife, Hien and the rest of the family could join him.
But by now his two eldest children were adults and Huyen, Lieu's elder sister, was also newly married. In their early 20s they were too old to be considered his dependents and instead had to make their own way to Australia.
They managed to get as far as Malaysia and for the following four years battled the squalor and desperation of an overcrowded refugee camp outside Kuala Lumpur. But the applications for visas to settle in Australia were unsuccessful and in 1993, rounded up by Malaysian authorities they were sent back to Vietnam where they began new applications in a bid for a visa.
From 1987 when her husband had boarded a flimsy boat for Indonesia and then Australia, Hien had struggled to survive and feed herself and her three young children. Finally she received the long awaited news that she and her children had been accepted for settlement in Australia. Hien and her children arrived in Sydney by air in May 1992, almost exactly 20 years ago. But her joyful reunion with her husband and youngest child, were tempered by worry over her two elder children and her so-in-law who at the time were still in the refugee camp in Malaysia.
"But my mother never lost hope and in 1995, eight years after my father and youngest brother had fled Vietnam, her prayers were answered," says Lieu. "That's when my sister and her husband and my brother finally received visas to settle in Australia. They flew from Vietnam to Sydney and there, for the first time in eight years, we were all together as a family once more."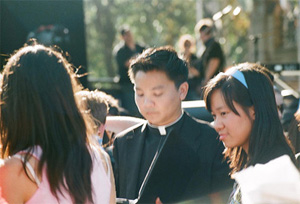 Hien's strong Catholic faith has not only been her sustenance and strength throughout her married life but throughout the difficult times when she was unaware if her husband was even alive, or if she would ever see her eldest daughter and son again.
"She was 20 when she became a Catholic but she's always been even more religious than my Dad, who was brought up Catholic. And she's always been the one who made sure we went to Mass and were brought up good Catholics!" Lieu says with a smile.
Hien's conversion to Catholicism has never stopped her from remaining in close and loving touch with her Buddhist parents and many siblings. And as Vietnam became a freer more open nation once more, her parents and most of her brothers and sisters have been able to visit her in Australia to share in her happiness and to meet their Australian-born grandchildren, nieces and nephews.
Today at 64, Hien who will celebrate her 45th wedding anniversary later this year, is a true testament to family, faith, strength and the power of love.
"There is a beautiful saying in Vietnam that describes the love of a mother to the vastness of the ocean and as sweet and gentle as a stream. That is what my mother's love is like," says Lieu who believes her mother's greatest legacy is her faith and her unconditional and all embracing love.
"As a mother I want my children to experience the power of that love through me and the love of God," she says. "I want my children to always feel love at home and that as long as they feel this love surrounding our house, to want to stay and remain in that love. Like my mother, I try to create a house filled with love, compassion, charity and caring so that my children will not only share in that love but become people of love as well."