Catholic Communications, Sydney Archdiocese,
24 Apr 2013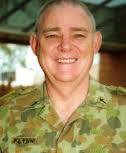 Monsignor Greg Flynn EV, Principal Catholic Chaplain for the Army says tonight's ANZAC Eve Solemn Vigil Mass of Remembrance is not only a time to commemorate the fallen and to pay tribute to the sacrifice and courage of past and present members of the military, but also to their partners, wives, husbands and the families who support them.
"Those who are left behind while their loved ones are on deployment also suffer," he says.
Mons Flynn is one of Australia's current and former military chaplains who will concelebrate tonight's ANZAC Eve Vigil of Remembrance at St Mary's Cathedral. Commissioned as an Army Chaplain in June 1976, Mons Flynn has served as chaplain to the Army for more than 30 years as a member of Australia's Catholic Military Ordinariate.
Every day of the year and particularly at this time of the year, Mons Flynn says his thoughts are with those who serve in the Australian Army as well as the men and women in all branches of the military and their families. This is a time when he also thinks of the chaplains who serve those in the military bringing comfort and support to the men and women of Australia's services and to their partners and families.
But he admits he is concerned that chaplaincy numbers are falling with fewer priests taking on the role and becoming members of the Ordinariate and serving as chaplains to the military.
Mons Flynn, who recently also took on additional duties as parish priest at Shrine of Our Lady of Mt Carmel in Waterloo, says it is the right of all Australians to be able to celebrate and participate in their religion, and this applies not only to all of us here at home in Australia but to those in all branches of the military wherever they are serving or wherever they have been deployed.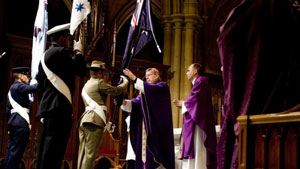 "Chaplains to those on active service are an important source of comfort and strength," he says adding that young people who have been placed in dangerous often life-threatening situations are deserving of pastoral and sacramental ministry.
Although military chaplains sometimes volunteer and are deployed overseas on six month furloughs, the majority of their time is spent here in Australia at military bases where they live alongside the men and women in the services, talk with them, lend a friendly and empathetic ear, offer advice, provide pastoral care and ministry and help out with practical advice and counsel.
Part of their work also includes speaking and talking with families.
Commissioned as an Army Chaplain five years after he was ordained a priest, Mons Flynn has served as chaplain at the Holsworthy Army barracks, been principal chaplain to the Army Reserves and in 2004, just under a decade ago, was appointed the Australian Catholic Military Ordinariate's Principal Chaplain for the Army.
One of the most moving and memorable periods of his years as a Military Chaplain occurred in 2005 when he says he was given the rare opportunity of honouring those lost in World War I.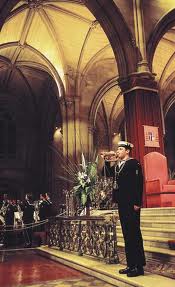 "I was lucky enough to be the chaplain that reinterred four World War I Australian soldiers in a memorial gravesite in northern France, not far from the Belgian-French border," he says.
At tonight's ANZAC Eve Solemn Vigil Mass of Remembrance, Mons Flynn has been chosen to read the Holy Gospel. Commander Ted Wynberg RANR will read the Second Reading from the First Letter of St Paul to the Romans. The First Reading however will be given by Her Excellency, Professor Marie Bashir, Governor of NSW who will read from the Book of Wisdom.
Professor Bashir regularly attends the ANZAC Eve Vigil of Remembrance at St Mary's Cathedral but last year was unable to be present as she was in Gallipoli and taking part in the ANZAC dawn service there.
This year she will be accompanied by her husband, Sir Nicholas Shehadie, formerly Lord Mayor of Sydney.
Other dignitaries who will be at tonight's ANZAC Eve Vigil include NSW Police Commissioner, Andrew Scipione; the Consul General of Papua New Guinea, Ms Pidiwin Raho Tau-Vali, the Hon John Murphy, Federal member for Reid who is representing the Prime Minister.
The NSW Minister for Justice and Attorney General, the Hon Greg Smith will also attend as the representative of NSW Premier Barry O'Farrell while the Hon Luke Foley will be at the Vigl and representing the NSW Leader of the Opposition.
Other important attendees include Rear Admiral Tim Barrett, Commander of the Australian Fleet, Don Rowe, State President of the Returned Services League of Australia (NSW) and Brigadier Christopher Field, Chief of Staff Headquarters Command.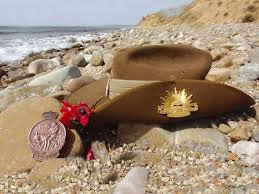 li and commemorating the men and women who have fought for Australia on the battlefields of World War I and World War II as well as those who fought in Vietnam, the Gulf War and more recently deployed to Iraq and Afghanistan, Mons Flynn points out that our military is also called on in times of natural disasters.
"Our recent history has seen the Australian Defence Force supporting poorer nations in times of natural disasters," he says and points out that in the past several years Australian troops have been sent to Samoa, New Guinea, Indonesia in the wake of earthquake-triggered tsunamis and helped these nations get back on their feet.
"I am filled with admiration and gratitude for the work carried out by past and present men and women in the services," he says.
"Australia's military are also very good at peace keeping and have played key roles as peace keepers in Cambodia, Somalia and other regions in the past few years."
The Principal Celebrant at tonight's ANZAC Eve Vigil of Remembrance will be Bishop Julian Porteous, Auxiliary Bishop and Administrator of the Archdiocese of Sydney during the absence of the Archbishop of Sydney, Cardinal George Pell who is currently in Rome.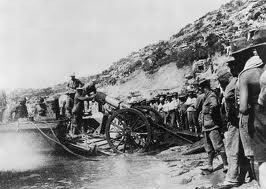 During the mass the Colours of the Three Services will be paraded into the Cathedral. A military band will also play and many past and present officers and members of the armed forces will attend.
The public is welcome at this Vigil of Remembrance to commemorate the fallen and to pray for all those who serve or have served the nation whether in defence of Australia, in the role as peace keepers or as part of the military deployments sent to help nations struck by natural disasters recover and rebuild.
The ANZAC Eve Solemn Vigil Mass of Remembrance at St Mary's Cathedral begins at 5.30 pm today, 24 April.
SHARED FROM ARCHDIOCESE OF SYDNEY