Catholic Communications, Sydney Archdiocese,
17 Oct 2013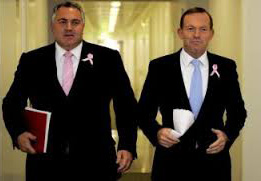 Prime Minister Tony Abbott will attend the Requiem Mass of Thanksgiving at St Mary's Church, North Sydney on Monday 21 October for Father Emmet Costello sj who died on Tuesday this week aged 89.
After his father Dick Abbott, the Prime Minister has frequently named Fr Costello as "the man who probably had the most influence on my life."
"He took me under his capacious wing when I was a 16 year old," Mr Abbott recalled earlier this year when he visited his mentor and friend, Fr Costello at St Peter's Green Hostel, Lane Cove where the priest spent his final years.
A teacher of French and Religion as well as chaplain at two of Sydney's leading independent Jesuit schools, Fr Costello taught and inspired many of Australia's leaders in politics, business and the Church.
These include former student at St Ignatius College, Riverview, the Most Rev Anthony Fisher OP, Bishop of Parramatta and St Aloysius College Old Boy, Treasurer Joe Hockey, both of whom will be at Monday's Requiem Mass of Thanksgiving for Fr Costello.
The funeral Mass will be celebrated by the Provincial of the Australian Jesuits, Fr Stephen Curtin sj. Concelebrating will be Fr Michael Ryan sj and Fr Edward Dooley sj.
The homily will be delivered by Fr Frank Brennan sj.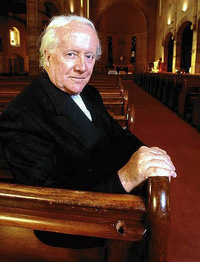 Other former students from Riverview expected to attend are Barnaby Joyce, Minister for Agriculture; Nick Greiner, former NSW Premier who like the Prime Minister also attended St Aloysius College; and Michael Coutts-Trotter, Director General of the NSW Department of Community Services and husband of Tanya Plibersek, Deputy Leader of the Federal Opposition.
A long-time friend and former Riverview student, although not during Fr Costello's time, eminent barrister Thomas Hughes QC has also been invited.
Among the old boys from St Aloysius at Milson's Point who knew Fr Costello and are expected to join the hundreds of others at Monday's Requiem Mass are the Most Rev William Wright, Bishop of Maitland; leading Australian businessman and former CEO of the Commonwealth Bank, David Murray and well-known former diplomat, politician and academic, Michael L'Estrange AO.
Although very frail, another well-known Australian who may attend is Fr Costello's longtime friend, award-winning artist Judy Cassab.
Born in Lautoka, Fiji to Australian parents, Kathleen and Dan Costello on 22 May 1924, as a youngster Fr Costello was unable to cope with the tropical heat and in 1928 was sent to New Zealand with a nurse-governess. He remained there until he turned seven when he travelled to Melbourne to be educated as a boarder at St Patrick's College, East Melbourne.
On leaving school and after much soul searching, he entered the Novitiate at Loyola College, Victoria to begin his studies for the priesthood.
"Five others entered with me and all persevered to ordination 13 to 14 years later," he would later write, explaining the Jesuits' long spiritual and intellectual formation involving two years of intensive prayer and spiritual discernment (novitiate), three years' study of arts or science, three years of philosophy, two years' experience in a college and four years of theology.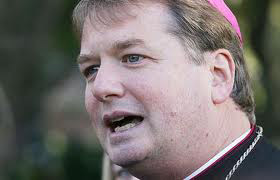 Fr Costello was ordained a priest in 1955 by Cardinal Gilroy but by then he had already begun teaching Latin and Religion at St Aloysius College. By 1958 after a brief break his role at the College expanded and he not only taught Religion and Latin but also French, Grammar and Modern History.
In 1967 his duties further expanded when he was appointed Chaplain to medical students at the University of Sydney and would later recall that one of the students to whom he gave pastoral care was Mervyn Cross who became one of the world's leading orthopaedic surgeons.
Two years later he began teaching at St Ignatius College Riverview where Tony Abbott was in his senior years. Teaching Religion and French, Fr Costello regularly took groups of students to help out at the Matthew Talbot Hostel for homeless men.
His father was now dead but in 1972 when Pope Paul VI made the first papal visit to Australia, he and his mother Kathleen, who was well known as an extremely generous benefactress of the Church in Fiji, were received in a private audience with the Pontiff.
"We were overwhelmed by the Holy Father's warmth, spirituality and charm. His message to me was: never, never put limits to Christ's love and power to help you in every way. He loves you Trust in him at all times," he recently wrote in an online blog.
In 1992 having served 50 years with the Society of Jesus, he travelled to Rome where he was invited to concelebrate a Mass with Pope John Paul II and later given a private audience.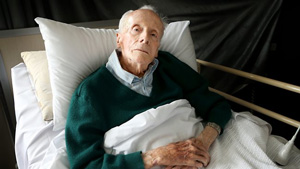 A year later after 40 years at St Aloysius and St Ignatius he retired from teaching to become parish assistant and minister at St Mary's North Sydney.

Together with his duties in the parish he continued to be a prolific author publishing several books including "Saints, Popular and Relevant" in 1994 which was launched by Thomas Hughes QC and "Christ My Brother" the following year, which was launched by Murray Gleeson, QC-later appointed Justice of the High Court of Australia in 1998.
In a statement yesterday, the Prime Minister Tony Abbott said that not only had he lost a mentor and friend but so had thousands of other young and now not-so-young pupils and ex pupils whom Fr Costello had befriended, taught, counselled and inspired over more than half a century.
"I guess all of us became his extended family. We will miss him but his spirit will live on in the hearts of all who loved him," he said.
The Requiem Mass of Thanksgiving for Fr Costello will be held at St Mary's Church North Sydney beginning at 8.30 am on Monday 21 October.
SHARED FROM ARCHDIOCESE OF SYDNEY