Catholic Communications, Sydney Archdiocese REPORT:
28 Jan 2014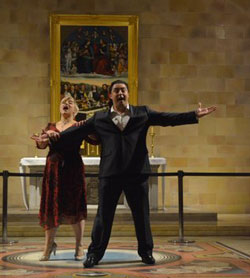 More than 3000 families, friends and visitors to Sydney enjoyed the Australia Day celebrations at St Mary's Cathedral on Sunday.
At the 10.30 am Mass celebrated by the Archbishop of Sydney it was standing room only. During the Mass a tribute was paid to all those Australians who fought and died in battle with the RSL Corps to Guards laying a wreath in their memory at the Cathedral's Fallen Soldier Memorial.
One of the highlights of the day was the opera recital in the Crypt featuring two of Opera Australia's stars-on-the-rise: coloratura soprano Regina Daniel and tenor Matthew Reardon. Members of the Opera and Arts Support Group Inc the singers were accompanied by Sharolyn Kimorely from the Sydney Conservatorium of Music.
Other highlights included two recitals by St Mary Cathedral's Director of Music, Thomas Wilson. Playing the Cathedral's famous Letourneau 3600 pipe-organ, the interntionally-acclaimed organist and musician, attracted a big crowd for each of his two performances.
According to Helen Hofman, St Mary's Cathedral's House and Events Manager, Australia Day 2014 was a huge success and is now very much a loved and anticipated tradition.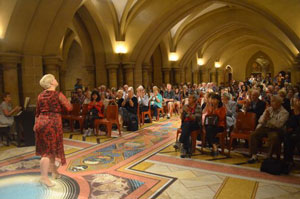 Tours of the Cathedral's bell tower which houses the largest set of bells in Australia are always popular, but this year were booked out within the 30 minutes.
The history tours of the Cathedral and the Crypt were also in demand and filled to capacity.
Led by volunteers who are also experts on the history of the Cathedral and its treasures, Sydneysiders had a chance to learn about the earliest days of the Catholic Church in Australia, the provenance and stories behind many of the Cathedral's priceless statues, sculptures, paintings and other artworks, as well as view vestments worn by Sydney's first Archbishop, John Bede Polding and early chalices dating back to the days when Sydney was a still a penal colony.
Photography by Roberta Mayanah