Catholic Communications, Sydney Archdiocese,
13 Jul 2015:
The Archbishop of Sydney, the Most Reverend Anthony Fisher OP has cautioned married couples against being "bullied" into supporting a redefinition of marriage from the current legal definition of "the union between a man and a woman to the exclusion of all others," to "the union between two people."
Welcoming 120 couples, their families and friends at a packed St Mary's Cathedral yesterday for the Archdiocese of Sydney's fourth annual Marriage Mass and the Renewal of Vows, Archbishop Fisher urged Catholics to respect and love all without supporting changes to the Marriage Act to permit same sex couples to legally wed.
"Marriage brings together...man and woman, sex and love, love and babies, parents and children," the Archbishop said in his homily.
"To say this is not to criticise anyone."
Archbishop Fisher said the faithful were often labelled as bigoted, with political and cultural forces trying to "bully us all" into redefining marriage.
"To say marriage is special is not to demean these other realities, rather it respects the diverse ways of being human and loving, not pretending away the differences," he said before couples renewed their vows.
Yesterday was a record turnout for the Marriage Mass and Renewal of Vows. Thirty-five of the couples there were celebrating golden milestone anniversaries representing 50, 55, 60 or 65 years of marriage. Among the other 85 couples, there were newly-weds, couples who had been married five or six years, others who had celebrated 20 and 25 years of marriage.
"Some came with their children, others with their children and grandchildren and the day was a wonderful celebration of the value, strength and meaning of the Marriage Sacrament," says Mary Joseph, Research and Project Officer for the Archdiocese's Life, Marriage and Family Centre which organise the Marriage Mass each year.
The current debate over changing Australia's marriage laws and following in the footsteps of the Irish referendum in May and last month's decision by the US Supreme Court to allow same sex marriage in all of America's 50 states is one of the reasons for yesterday's record turnout for the annual Marriage Mass, Mary believes.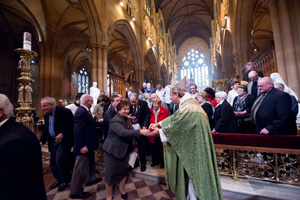 "There was a definite show of support among couples, families and everyone who attended for Catholic teachings on marriage and what marriage meant to them, to their families, their children and grandchildren and to society as a whole," she says. "With the meaning of marriage currently being challenged, the large numbers of men, women and children who attended yesterday's Mass was a wonderful demonstration of solidarity in the strength and importance of marriage."
Each of the couples who attended the Mass were given a small gift by the Archbishop while those celebrating golden milestone anniversaries of 50 to 65 years of marriage, were presented with engraved certificates as special mementoes of the occasion.
Among the couples receiving a certificate from the Archbishop were Joan and Keith Dunsmore who will celebrate their 65th "blue sapphire" anniversary on 3 February, 2016.
"We renewed our wedding vows once before but that was some years ago so when we read about the Marriage Mass we thought it would be a nice thing to do ahead of our 65th anniversary," Joan says.
Now in their late 80s, the couple were married at Mary Immaculate Catholic Church, Waverley and both are still active members of the parish.
For Joan and Keith a successful marriage is doing things together, working things out by talking before they become a problem, and above all enjoying the great gift and blessing of children.
With two daughters, four grandchildren and a first great grandchild, they insist that having children has brought them even closer together.
"Two of our very good friends are men who are same sex attracted, and I have to say they are two of the nicest people I have ever met. They are great friends of ours and through them we have met other same sex couples who are also very kind and warm and friendly. But that doesn't mean I think it is necessary to allow them to marry. I think they should be partners in a civil union. But not in marriage which is about children," she says. "And I certainly don't really agree with same sex couples being able to adopt children. But that is just my opinion."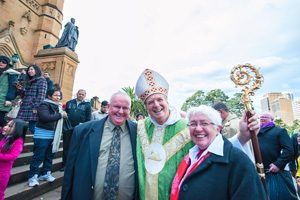 And one with which most Catholics old and young might well agree.
In June Opposition Leader Bill Shorten outlined a bill to legalise marriage between same-sex attracted couples.
However at least two Queensland Liberal National Party members have said they will co-sponsor the private member's bill along with another Labor MP, a Greens MP and two independents.
This is expected to be tabled in Federal Parliament the first or second week of August.
For the full text of Archbishop Fisher's homily at Sunday's Marriage Mass and Renewal of Vows at St Mary's Cathedral see here
Shared from Archdiocese of Sydney